It was in the heat of summer that Mikel Arteta finally decided to press the button on a strategy he had been brewing for almost a year. For much of the previous season he had become convinced that Ben White was a right-back in the making: quick, calm on the ball and blessed with sound positional sense and a high level of tactical intelligence. The problem was everyone else. None of the squad, he decided, was capable of replacing White in the centre of defence.
For some time Arteta had been searching for full-backs who could play his way: stepping up into a narrower role when Arsenal had the ball, effectively mutating into central midfielders. Over his three seasons at the club he had tried and discarded Ainsley Maitland-Niles and Héctor Bellerín on the right, Nuno Tavares and even Bukayo Saka on the left.
Finally, in White and the incoming Oleksandr Zinchenko, he could turn his vision into a reality. In pre-season training, seeing how far centre-half William Saliba had progressed during a year's loan at Marseille, he realised his problem had a solution.
It is in the full-back positions Arteta's footballing DNA is at its most visible. The deployment of the underlapping full-back (the commonly used term "inverted full-back" is not quite accurate, as players are still playing on the side of their stronger foot) has been a cornerstone of many teams coached by Pep Guardiola, Arteta's former teammate at Barcelona and mentor at Manchester City. But its real origin story goes back further still, to the man who first made Arteta fall in love with football. Most intriguingly of all, it is also a formative influence on the coach Arteta will face at the Emirates Stadium on Sunday.
Erik ten Hag met Johan Cruyff once. He was 13 years old. It was 1984 and Ten Hag was appearing on a Dutch TV show called Cruijff & co, in which the Cruyff trained a group of young footballers and then discussed the game with them. Even at this tender age, Ten Hag was curious and assertive, asking more questions than anyone else. By the time he joined Ajax three decades later, Cruyff was gone. It remains one of Ten Hag's enduring regrets that their first meeting would also be their last.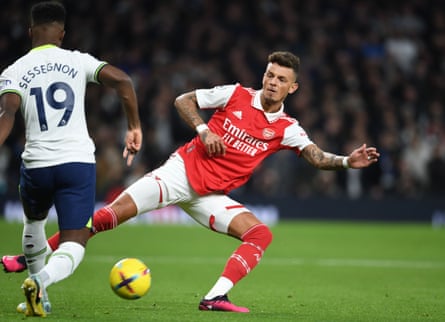 For Cruyff would have a profound effect on Ten Hag. His first overseas coaching job was with Bayern Munich's second team, under the aegis of another Cruyff disciple in Guardiola. As Ajax coach he hung two pictures of Cruyff in his office: one as a player and one as a coach. "I apply Cruyff's ideals in my current work," he said in an interview with Dutch television last year. "Cruyff walks around here every day, you can feel his DNA here."
Again, it is perhaps in defence that the influence is most apparent. As a coach, Cruyff pioneered the use of full-backs in central roles, centre-halves with the technical ability to advance into midfield or the versatility to defend the wide areas. At Ajax, Ten Hag nurtured a core of players equally comfortable rotating between full-back, centre-half and defensive midfield, whose role was essentially a hybrid of all three: Daley Blind, Nicolás Tagliafico, Tyrell Malacia, Lisandro Martínez. For a time he even tried Frenkie de Jong at centre-half. Flexibility is the key principle here: fixed positions matter less than the ability to tilt or shift based on where you think the spaces might open up.
The early evidence suggests that Ten Hag is already experimenting in a similar direction at United. Early in his tenure he used Malacia and Diogo Dalot in underlapping full-back roles. More recently, he has become drawn to the idea of using Luke Shaw as a centre-half, as in the 2-1 win over Manchester City last Saturday. On the face of it, Shaw against Erling Haaland was a grotesque mismatch; in practice Shaw's tactical intelligence, combined with his ability to play telling forward passes under pressure, was one of the reasons for United's success that afternoon.
"I was quite surprised I was playing there," Shaw said, but it is simply an extension of a wider evolution in his game this season. Traditionally a touchline-based full-back drilled to reach the byline and deliver crosses, Shaw's role has shifted to a more defensive emphasis, but also one with greater responsibility for launching attacks through midfield. In the past two seasons he made 298 crosses and completed 43 dribbles. This season he has made 35 crosses and completed a single dribble.
Similarly, Arteta's redeployment of White bears all the hallmarks of the Cruyff influence. As Arsenal progress up the pitch, White – who occasionally played as a defensive midfielder under Marcelo Bielsa at Leeds – increasingly moves inside, wary of counterattacks but also offering a short passing option to Saka. And so while White is a centre-half masquerading as a full-back, and Shaw the opposite, they end up operating in very similar areas of the pitch.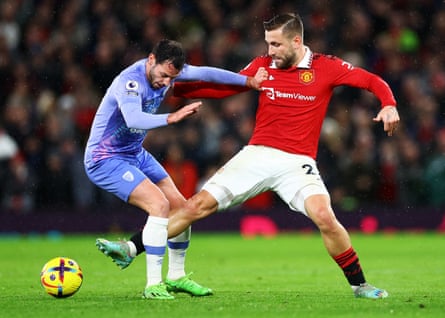 The real lesson here, however, has nothing to do with tactics or influences. It takes courage for a new coach to start experimenting with new players in new positions, particularly in the face of established alternatives (Harry Maguire for United; Bellerín for Arsenal). Often the biggest battle is with the player himself. White and Shaw are fairly introspective, players who at times have struggled with confidence. "We all believe he had the qualities to do that role," Arteta said of White. "The most important step was for him to believe that he could do it."
So in many ways the trick Ten Hag and Arteta have managed to pull off is not simply in devising a strategy but convincing their players to buy in. The tales of White and Shaw – and Guardiola and Cruyff before them – remind us that creating a successful team is about more than ideology or moving chequers around on a whiteboard. At its heart, it's a question of trust.