Key events
Here are all the goals from the first half:
Rachel Daly's goal brings her league total to nine this season, putting her as sole top scorer in the WSL. Before this game she was tied on eight with Manchester City's Bunny Shaw.
Half-time: Aston Villa 2-1 Tottenham
After a dominant opening to the game, it was Tottenham who opened the scoring in this one with England getting a goal on her debut. Going behind seemed to make Villa more determined and quickly scored through Dali and went into the lead with a Daly goal. It is all still to play for in the second half!
45 + 2 min: Daly had a good chance but Korpela saved well.
45 min: Spence got a cross into the box but there were no teammates waiting to receive it. Spurs get it in the box again but Leat collects. There will be three minutes added.
44 min: After that goal frenzy the game has quietened slightly with possession exchanging hands and a calmer tempo.
42 min: The ball is popped into a great position but it is cleared well. Villa remain in possession and Mayling is challenged on the edge of the box – the crowd don't like it but the referee judges it a good tackle.
40 min: Okay they have hit my prediction before half-time, this game has come to life! Villa are coming forward again as the look to extend their lead, Villa have a corner as Zadorsky blocks a cross to Daly.
GOAL! Aston Villa 2-1 Tottenahm (Daly, 38)
Patten takes the kick and passes to Nobbs who tries to get it in the box but it has too much on it. Villa win it back and Hanson delivers it to Daly and she takes a one touch finish!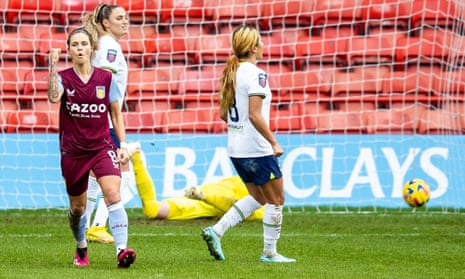 37 min: Villa have their momentum back and Staniforth wins a free kick in a good position. Dali takes the kick but Daly can't connect sweetly with it. Hanson is fouled and Villa have another free kick.
35 min: Villa got the ball to Dali and she tried a long range effort. The rocket had so much power Korpela couldn't do anything about it, what a hit!
GOAL! Aston Villa 1-1 Tottenham (Dali, 34)
What an absolute screamer!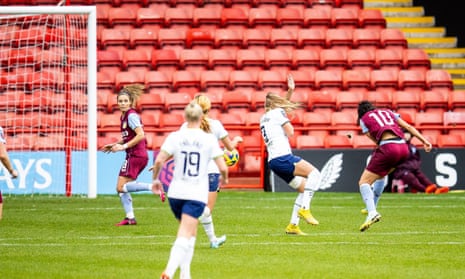 33 min: Villa are trying to create a chance and stem Spurs' possession to stop them growing even more into this match. The game has flipped on its head after England's goal, Villa look more nervous on the ball now.
31 min: My mouth was wide open when that hit the back of the net, I said Villa would rue their missed opportunities and they definitely will if the scoreline remains as it is. Spurs are in possession again here, the momentum may have swung in this one.
29 min: Well I feel they heard me say there wouldn't be a goal and wanted to prove me wrong! I am shocked though as Villa had all the possession and that was Spurs' first chance and they have scored! They threaded the ball in and England was waiting to pounce, exactly the start at her new club she would have wanted.
GOAL! Aston Villa 0-1 Tottenham (England, 28)
She has a goal on her debut!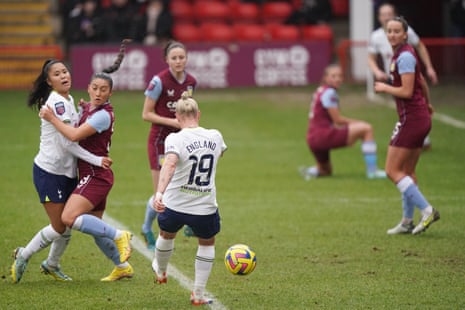 27 min: England almost pounced on a loose pass but Leat managed to clear. Spurs are growing into this one but still do not look like scoring, I'm unsure if we will see a goal in this first half.
25 min: Dali gets the ball in the area but Harrop heads it clear. Dali is then fouled by halfway and Villa have a free kick, Hanson takes it and the home side are building from deep here. The earlier drilling of the Spurs goal has simmered slightly.
23 min: Villa thread the ball through the team like a knife through butter but they still can't find a way to break this deadlock.
21 min: Villa's high press sees Spurs run the ball back to Korpela and after possession exchanges hands it is Villa who are coming forward. The chance ends in a goal kick though, Villa will rue these missed opportunities if they can't convert. Also apologies, I said it was Ayane who was injured but it was A Turner. She has now been replaced by Harrop, hopefully she is okay.
19 min: This break could aid Spurs who haven't had a good opening to this match, the players are in a huddle having discussions. Ayane is okay to continue after a long period of treatment and Korpela gets play back underway.
17 min: Spurs almost get the ball to their new signing England, if they can create just one chance the former Chelsea star could put them ahead here. Daly is fouled in the midfield but A Turner, who gets a yellow card, and Villa have a free kick. They take it quickly and Staniforth has a long range effort but Korpela saves. Ayane is down injured so there's a break in play.
14 min: Villa players are being allowed so much space and time on the ball, the latest chance seeing Dali find acres of space on the edge of the box but Spurs do enough to clear the cross. An opener from Villa feels imminent, they just need to be more clinical in the box. Spurs finally have some attacking possession but A Turner is wasteful with a pass going out of play for a goal kick.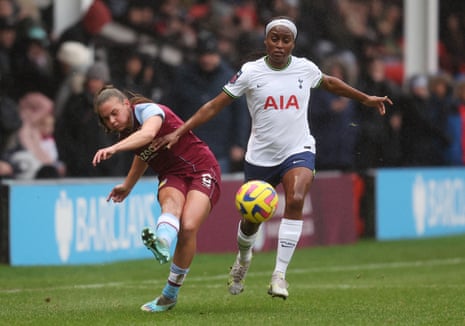 12 min: They attempt an ambitious hit upfield but Villa cut it out and get it quickly into the box, Korpela does enough to repel the chance. The keeper is keeping them in this at the moment, Spurs have had hardly any possession in Villa's half.
10 min: Wasteful ball from Spurs who take their time playing out from the back and then pass it out of play. They don't look like a team right now, just a bunch of individuals doing their best to stem the flow of this Villa side. Spurs have won a free kick again in their own half, they will have to build from deep to create something from this.
8 min: Here come Villa again, they will want to score soon to be rewarded for all this pressure and momentum. Hanson crosses in but Spurs do well to keep it out, the ball is rifled into the area again and Daly gets a head to it but Korpela saves.
6 min: Spurs get a free kick in their own half to relieve some pressure but Villa are all over the visitors so far. They play it out from the back and manage to get to halfway but Daly nicks it to give possession back to Villa once again. They attempt to cross it in but the offside flag is up, Spurs can clear their lines.
4 min: Daly is played the ball in the area but she doesn't have enough space to fire a chance, it is all the home side at the moment. There's a lot of defensive work for Spurs to do and they aren't cohesive at the moment.
2 min: Villa are off to a flying start and it is Nobbs who has the first chance with a long range effort saved by Korpela. It is a frantic start to this one with some passes by Spurs going loose.
Kick-off! Aston Villa 0-0 Tottenham
Here we go! The first league game of 2023 is underway.
So we are just five minutes out from kick-off! Any predictions for this one? I think Villa will take the win 2-1, let me know your thoughts.
With all the talk of transfers in this winter window I thought it would be good to point you in the direction of our transfer interactive. It has every transfer of the window from the top five European leagues, take a look:
Ahead of this one getting underway in just over 15 minutes let's have a look what else is happening in the league this weekend. The big match is Arsenal v Chelsea in a top of the table clash being held at the Emirates. Arsenal are targeting the attendance record, set by them earlier this season in the North London derby. Read all about it:
Big name signings can add pressure to managers to produce results but Ward isn't worried. "Isn't there pressure every day in this job? I think that's what we love about it," she said. "No, I always say, I think you've got to work and live every day like it might be your last day in the job. Otherwise, how do you always improve?"
It's not just Skinner who has been speaking about her new signings, Villa boss Carla Ward has spoken on Jordan Nobbs and Lucy Staniforth. She said: "I think it was important to get a couple of experienced heads in the building. I think with where we want to go, what we want to try and achieve, it's important that those experienced bodies come in and add value to what we're trying to do. I think Jordan and Lucy felt that perfectly."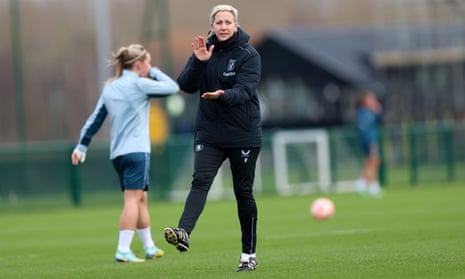 The WSL winter break put a pause on the season for a month and Skinner says it has been beneficial for her side. She said: "I think we were ready for the break, I think a lot of players have obviously played a lot of football with all the tournaments in the summer. I think the break has been very good for us, players have come back refreshed and ready to go and we're still working on the transfer window as well and we've had a new addition in that time. It's a good start and we're looking forward now to the second half of the season."
There was a huge buzz around Beth England's move to Spurs, not only because of how long she had been at Chelsea but for the reported record fee. Rehanne Skinner was asked about it at her press conference ahead of today's match and her answer was ambiguous. "First of all don't believe everything you read, in terms of the figure being exaggerated, the number that was the previous historic record isn't accurate either, but you pay for what you get," she said. "There was a transfer fee that needed to be paid and, as a club, we're trying to evolve the team and it's important that you pay those fees when you need to to get the right people in the door. As a footballer and a person, she's going to add huge value to our team."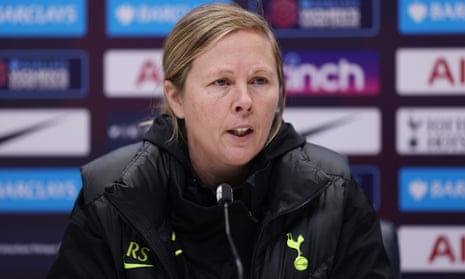 So which transfer this window so far has you most excited? And who else would you want your club to bring in? Let me know your thoughts via Twitter, @rendellx, or email!
I know you are all as excited as me to see the WSL return but you may have missed news and updates over the month it has been away. Fear not, our very own Suzy Wrack has you covered. Read her piece below about signings and what you need to know ahead of round 11:
Aston Villa have revealed their starting team and new signing Jordan Nobbs and Lucy Staniforth are straight into the mix! Sarah Mayling also starts after extending her contract with the side.
Villa starting XI: Leat, Mayling, Patten, Turner, Pacheco, Staniforth, Nobbs, Dali, Blindkilde, Daly Hanson.
Tottenham, meanwhile, have handed a debut to their new player Beth England.
Spurs starting XI: Korpela, Turner, Zadorsky, Bartrip, Ale, James, Spence, Cho, Ayane, Ubogagu, England.
Good morning and welcome to our coverage of Aston Villa v Tottenham, the game kicking off the Women's Super League's return. The league had a break over the Christmas period but it is back and both teams have new players in their ranks to put into action today.
Hosts Villa have arguably done the best business this window so far as they have acquired Jordan Nobbs from Arsenal and Lucy Staniforth from Manchester United. Tottenham, meanwhile, have been shrewd themselves with one of the biggest transfers coming to the club. Beth England has moved from Chelsea in what was reported to be the biggest financial transfer between two WSL clubs. All the new signings will be available today and we will find out shortly if they made the starting XI.
In terms of what a win will do for both clubs today, Villa could move to fifth with a victory and Spurs would be sixth. A draw would see each club stay in the same position which they are in now – Spurs are eighth and Villa are seventh.
Well let's dive in! The team news will be available shortly so stay tuned ahead of kick-off at 12.30pm GMT.