Key events
Lehecka has a chat: "Nothing I'm not used to. I can play these matches. I knew that. I felt I can finally beat him. It was a great match … Cameron is playing incredibly, and with all you guys here to add the support, I enjoyed that a lot."
The crowd gives him the customary cheer. The pair played in Auckland a couple of weeks ago – Norrie won – did Lehecka learn from that, he is asked.
"To find tactics on him is so tough … the only think I learned from that match is to never give up, to fight every ball, to try to grind as much as I can. I'm happy that I'm through!
"I feel amazing and ready for the next round for sure … last year it was a tough year for me, playing all four first time grand slams and never going through the first round … I'm super happy that I'm through, I knew I can beat this guy, and of course we are not at the end."
Lehecka beats Norrie! 7-6 (8), 3-6, 6-3, 1-6, 4-6
A solid first serve is netted by Norrie for 15-0. A deep second serve is miscued by the British player for 30-0. A textbook point by Lehecka next, stretching Norrie around the court and finishing with a smart backhand volley for 40-0 … and he's done it when Norrie can only net a backhand! The 11th seed is out!
Norrie won't be happy with his efforts in that last game, he could and perhaps should have exerted a little more pressure, but a great job from Lehecka, who roars with delight and accepts the adulation of the crowd.
He will meet the sixth seed, Félix Auger-Aliassime, in the next round. If he can play as fearlessly as he did against Norrie he has a chance.
Norrie 7-6 (8), 3-6, 6-3, 1-6, 4-5 *Lehecka (*denotes next server)
More work to do for Norrie as Lehecka's fluent hitting takes him to 30-30. However, the Czech hits wide for 40-30 and Norrie rounds it off to force his opponent to serve for the match. Lehecka takes a sit down and a drink, and has a chance to contemplate the achievement he is on the verge of. A fourth-round place beckons if he can win his next service game.
*Norrie 7-6 (8), 3-6, 6-3, 1-6, 3-5 Lehecka (*denotes next server)
The players go toe to toe in a powerful baseline exchange. Norrie positions himself perfectly to end it, belting a clean inside-out winner to the corner. Lehecka looks concerned to say the least.
At 15-15 Norrie comes in behind a short ball looking to end the point with a volley, but Lehecka stands firm and cracks a lovely pass beyond his opponent for 30-15. Norrie then misses for 40-15 and Lehecka keeps the momentum to hold. That's all he needs to do …
Norrie must serve to stay in it.
Norrie 7-6 (8), 3-6, 6-3, 1-6, 3-4 *Lehecka (*denotes next server)
Norrie double-faults horribly and is taken to 30-30 … but he then wins himself a game point, and converts to hold, and this is a steely final-set comeback from the 27-year-old Johannesburg-born player.
At such a young age, there would always be a worry about Lehecka getting over the finish line. Can Norrie capitalise?
*Norrie 7-6 (8), 3-6, 6-3, 1-6, 2-4 Lehecka (*denotes next server)
Stop the press! Norrie gets one of the breaks back. Given the freedom with which his young opponent has been hitting the ball, it would be some turnaround to win this final set from a double-break down.
*Hurkacz 3-1 Shapovalov (*denotes next server)
The Canadian is on the board on Margaret Court Arena.
Keys 2-1 *Azarenka (*denotes next server)
Both Keys and Azarenka have now been broken in the first. Azarenka is serving to bring it back to 2-2.
Norrie 7-6 (8), 3-6, 6-3, 1-6, 1-4 *Lehecka (*denotes next server)
Lehecka continues to fire off some spectacular and powerful strokes from the back of the court, committing to everything, taking Norrie to 30-30 on the British player's serve. Norrie fluffs a backhand into the net, and it's a break point for the Czech … But Norrie pounces to put away a fine double-handed backhand and save the break point.
Lehecka edges the next point, though, and it's break point again … Lehecka is all over Norrie's second serve like a rash, and buries an angled forehand winner to move a double break up. Deep trouble for Norrie.
Hurkacz 3-0 *Shapovalov (*denotes next server)
The Polish player has raced into a 3-0 lead in the first set, a break up, and is already threatening a second break of the Canadian's serve.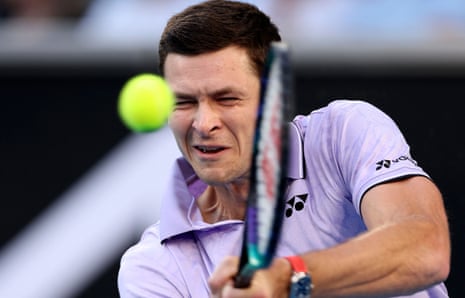 Norrie 7-6 (8), 3-6, 6-3, 1-6, 1-2 *Lehecka (*denotes next server)
Norrie continues to trail and was even at risk of falling a double break down … the commentator references "mental mind games", which sounds like a particularly intense business.
Lehecka is seeing it like a football and the commentators are purring over the sweetness with which he is striking the ball, especially on his backhand.
Keys 1-0 *Azarenka (*denotes next server)
Madison Keys, 10th seed, begins with a hold of serve in the first set against Victoria Azarenka (24).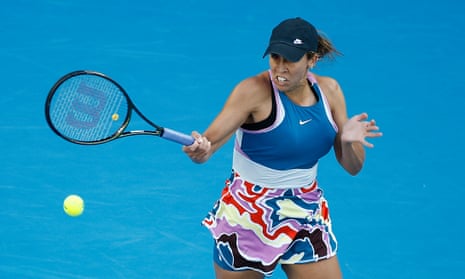 Who is Jiri Lehecka, I find myself wondering this morning? He is 21, and ranked 71 in the world. This is his best result at a grand slam – he's played them all, but never been past the first round at Wimbledon, the US Open or at Roland Garros.
He was born in Mlada Boleslav in the Czech Republic, which was named after its founder, Duke Boleslaus II, who was called "The Young One" to distinguish him from his father. (Thanks Wiki)
Norrie 7-6, 3-6, 6-3, 1-6, 0-1 Lehecka (*denotes next server)
Norrie has just been broken at the start of the fifth and final set. He also just required some attention for an injury, I am not sure what. He is up against it here …
The Australian Open will not amend its scheduling despite coming in for criticism after an epic encounter between Andy Murray and Thanasi Kokkinakis did not finish until 4am in Melbourne.
Mike Hytner reports:
Hello again. What's going on in Melbourne right now? Cameron Norrie has just gone into a deciding fifth set in his third-round match against Jiri Lehečka of the Czech Republic. Elsewhere in the men's draw, Hubert Hurkacz (10) is about to start against Denis Shapovalov (20), a match that should be well worth keeping an eye on.
In the women's singles, the pick of the games is Madison Keys (10) v Victoria Azarenka (4), which is about to get under way. It's going to be another busy and no doubt exciting day, although I doubt there'll be anything quite like Murray v Kokkinakis …