Key events
*Gauff 6-3, 0-0 Raducanu (*denotes next server)
Holding serve is imperative for Raducanu in this opening game of set two and she swiftly moves to 40-0 after another wrong-footing forehand. Gauff finds the net and that'll do.
Gauff wins the first set v Raducanu 6-3
Gauff 6-3 Raducanu* (*denotes next server)
Gauff takes the first two points but Raducanu's fierce forehand has the American scrambling: 30-15. Gauff puts her hand to her mouth in semi-shock as she makes an unforced error for 30-30 and another goes long to give Raducanu a break point. Gauff saves it with a crosscourt backhand, prompting a shout of "come on", and she repeats the cry after holding off another. Raducanu claims a third break point by ending the best rally of the match with a forehand down the line but Gauff's big serve keeps the Brit at bay once again. Raducanu's fearless return denies Gauff a first set point but Guaff's serving is just too heavy and the American deservedly wraps up the first set.
*Gauff 5-3 Raducanu (*denotes next server)
Not exactly a packed crowd on Rod Laver tonight although a few are wandering back in now. Raducanu has to hold to stay in this first set and wins the first point as Gauff goes long with a backhand. Raducanu is still going after her shots and has Gauff on the runaround before putting away a wrong-footing backhand for 30-0. This is better! Another backhand winner moves Raducanu to 40-0 before Gauff clubs a forehand at high speed for one of her own. But this is Raducanu's game and Gauff finds the net on the next point as Raducanu holds to 15.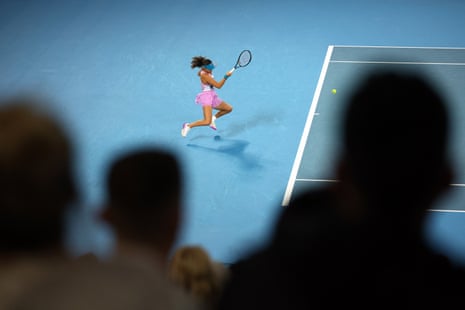 Gauff 5-2 Raducanu* (*denotes next server)
Raducanu whips away a backhand crosscourt winner to secure 15-30 and sniffs a second straight break back. But there are just too many errors creeping in from the Brit and Gauff isn't having to work as hard as she might for points. The American wins the next three and moves 5-2 in front.
*Gauff 4-2 Raducanu (*denotes next server)
A third straight break! Great reactions at the net from Gauff after Raducanu drives at her body and, boosted, the American moves to 0-30. Pressure on the Raducanu serve once again. Gaugh senses a kill and for a fourth successive game we have break points. Raducanu has two to save but can only manage one as her forehand loops just too long at 30-40.
Gauff 3-2 Raducanu* (*denotes next server)
Raducanu breaks back! Raducanu shows her fighting qualities and moves to 0-30 with a forehand at the net and a high looping backhand volley which Gauff can't quite believe lands in. Can she break back immediately? Gauff's heavy serving and huge backhand help her win the next three points but she drives a forehand volley into the net for deuce. Raducanu secures a break point that Gauff does well to dodge but the Brit's aggression forces the American to double fault on the next.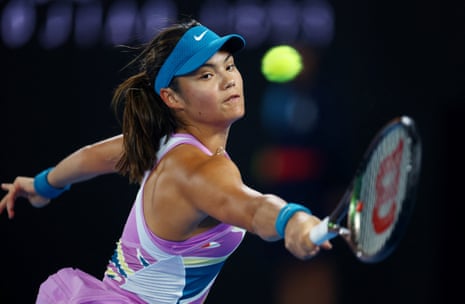 *Gauff 3-1 Raducanu (*denotes next server)
Gauff breaks! The seventh seed's backhand really is a weapon and it's starting to do damage now. It helps the American race to 0-40 and on the cusp of the first break. Gauff dumps a forehand into the net but Raducanu rushes a backhand and loses her serve to 15.
Rafael Nadal is out! Yes, we've already had drama today with the men's top seed and defending champion falling in straight sets to Mackenzie McDonald. Tumaini Carayol was at Melbourne Park to see Nadal's body betray him once more.
Gauff 1-2 Raducanu* (*denotes next server)
Gauff's forehand is her slightly weaker side and two unforced errors give Raducanu a 30-15 advantage before she secures two break points with a fierce drive down the line. Gauff survives the first with an ace before a clever, bouncing second serve into Raducanu's body takes game three to deuce. Gauff wins the next two points, closing out with a heavy serve that Raducanu can't deal with. 2-1 to the American in the opener.
*Gauff 1-1 Raducanu (*denotes next server)
A rather wild double fault makes it an inauspicious start for Raducanu in her opening service game and Gauff gets to 0-30 before a heavy second serve from the 2021 US Open champion secures 15-30. From there, Raducanu starts to unleash, winning the next four points to level at 1-1.
Gauff 1-0 Raducanu* (*denotes next server)
Raducanu wins the toss and chooses to receive first. Both players unleash punchy groundstrokes in a lively opening rally before Raducanu finds the net. The Gauff serve is quick and accurate and the American takes the opening game comfortably for just the loss of a point.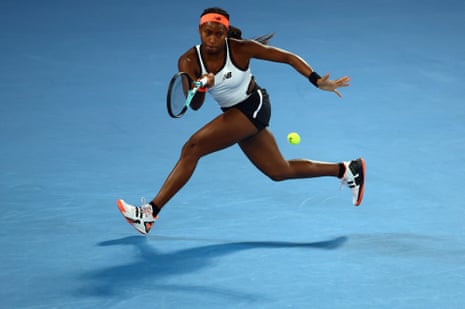 Gauff and Raducanu are now hitting up. For some context, the American is favourite with the bookies but we don't have much head-to-head form to go on. In fact there is none. Raducanu and Gauff have never even practised together never mind played a competitive match.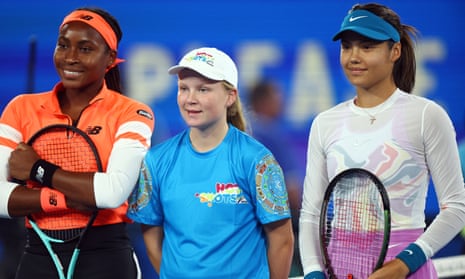 Good morning/evening! It's just gone 8am UK time and 7pm Melbourne time and we're not far away from Emma Raducanu's second-round match against seventh seed Coco Gauff. Indeed, as I write, they're walking into the Rod Laver Era. Raducanu has strapping on her left ankle but she's played down that injury ahead of the match. We've already had drama on day three which we'll get to shortly. Okay, let's go!