Key events
Rybakina 6-5 *Azarenka (*denotes next server)
Rybakina's first-serve success rate has now slumped to 49%. Azarenka continues to punish the second serve, striking the ball tremendously well and continuing to put pressure on her opponent. Quick as a flash it's 0-40 and three break points. The first serve is wide. Rybakina does well to save the first break point in the face of a big return.
At 15-40 the first serve is wildly long. But again Rybakina hustles and shows character to save another break point. Again, Azarenka has a chance to try and bury a second serve at 30-40 … but she fluffs it and finds the net. Deuce.
Eventually, finally, Rybakina finds a first serve to seal an important hold. A big, big missed chance for Azarenka there with three break points up in smoke. She had battled back and put so much pressure on her opponent in the preceding moments.
*Rybakina 5-5 Azarenka (*denotes next server)
It's 30-30 and there is potential danger for Azarenka. Rybakina miscues from the baseline for 40-30. "Let's go!" Azarenka tells herself. Rybakina hits wide next up, and it's all square. Rybakina was hitting the ball with phenomenal power and accuracy in the first few games … but Azarenka is not going anywhere.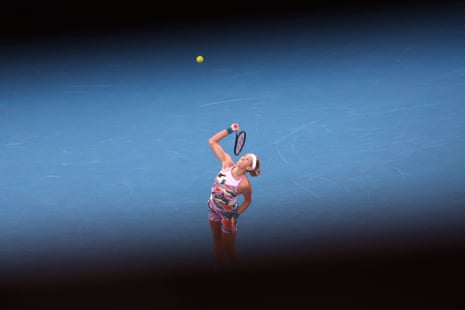 Rybakina 5-4 *Azarenka (*denotes next server)
Again, Azarenka keeps fighting and immediately threatens her own break back, at 0-30.
Rybakina digs out a classy volley, coming to the net and dinking an angled effort over the net that Azarenka sprints for and manages to get a racket to, but that's about all. Rybakina whips a beautifully timed, half-volleyed winner for 30-30 and then a 188km/h serve for set point at 40-30.
It looks like Rybakina has earned the set, but she doesn't hit a perfect volley when coming to the net, and Azarenka pounces to curl a passing winner, on the run, down the line. Soon it's break point when Azarenka targets the second serve! Excellent, excellent stuff from the 2012 and 2013 Australian Open champion …
The players exchange blows from the baseline on the break point, and Rybakina smokes a trademark winner to take it back to parity. Azarenka answers in kind and earns another break point … the big first serve is fractionally long, and Rybakina hits wide – Azarenka has the second break back!
So, so good from Azarenka. She was given an inch, and took a mile.
*Rybakina 5-3 Azarenka (*denotes next server)
Rybakina earns two break points at 15-40. Azarenka saves the first with a finely-constructed point finished off with an angled winner to the corner. She saves the second in similar style.
An excellent rally culminates in a straightforward winner for Rybakina and a third break point … Azarenka nets from the back of the court and gives the break to her opponent, who can serve for the set.
Azarenka is not intimidated by her opponent's superior power, and is fighting hard, but is that a decisive game in the first set?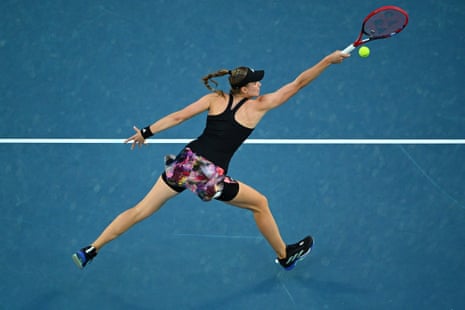 Rybakina 4-3 *Azarenka (*denotes next server)
And now a love hold for Rybakina thanks to some more punishing serving. She appeared to be wobbling, but not anymore.
*Rybakina 3-3 Azarenka (*denotes next server)
Azarenka seems to have installed a little bit of doubt in her opponent's mind. Rybakina misses a couple of times for 30-0. Azarenka then finds the net from the back of the court for 30-15. Rybakina then steps into a backhand with devastating effect, angling a winner to Azarenka's backhand side that flashes past the Belarussian before she can move.
Rybakina soon has a break point, although Azarenka challenges a line call and Hawkeye shows Rybakina's shot clipping the line. Rybakina closes out an immediate break back.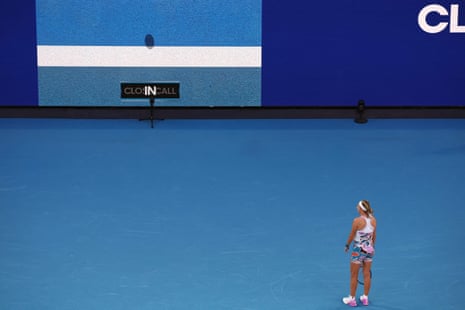 Rybakina 2-3 *Azarenka (*denotes next server)
A glimmer for Azarenka at 15-30. Rybakina responds with a clean ace. At 30-30, Azarenka does exceptionally well to return another huge serve, establishes herself at the base line, and promptly crafts a sensational wrong-footer down the line for a very hard-earned break point. At 30-40 Azarenka again keeps herself in business after Rybakina's big serve, stays in the point, and engineers the chance for an easy smash – and a break! Very, very high level stuff.
*Rybakina 2-2 Azarenka (*denotes next server)
Sturdy stuff from Azarenka, who clearly knows she needs to raise her game, and react to her opponent's early aggression with some of her own. She holds to level in the first set, clinching the game with a big first serve.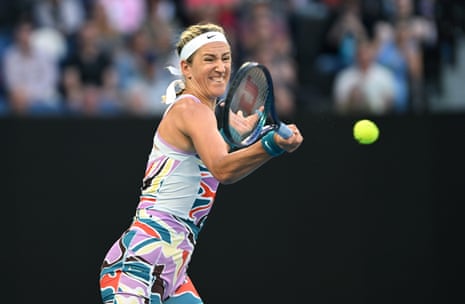 Rybakina 2-1 *Azarenka (*denotes next server)
Rybakina unloads a scorching backhand for 15-0. If she keeps striking the ball so effectively, causing so much damage, this could be over pretty swiftly. Azarenka nets from the back of the court for 30-0 and the world No 25 Rybakina races to a love hold.
*Rybakina 1-1 Azarenka (*denotes next server)
Power and precision from Rybakina to make it 15-15 with a crushing forehand winner. There is a slow-motion replay of Azarenka exhaling and raising her eyebrows as she contemplates the quality and aggression of that shot.
"She needs to be a step quicker, sharper … I'm sure she'll work it out," says Durie on commentary of Azarenka, at 30-30. And on cue she clips an excellent unreturnable backhand to the corner. Rybakina immediately forces the pace on the next point, though, and takes it to deuce … but Azarenka hustles impressively to hold after initially looking somewhat overwhelmed by her opponent's power. An important hold.
Rybakina 1-0 *Azarenka (*denotes next server)
A double fault from Rybakina to begin. She steadies herself and wins the next point, Azarenka hitting wide for 15-15, then Rybakina smacks a 186km/h ace down the middle. She adjusts her aim, and belts a second ace out wide … and then immediately a third! And that's the game. Fine serving, and ominous for Azarenka.
Here we go. Rybakina to serve.
Rybakina was born in Moscow, but now competes under the Kazakhstan flag. So it's Kazakhstan v Belarus.
"She has surprised me," says Eurosport's Simon Reed, of Azarenka's run to the last four. "I was astonished how well she played against Pegula, particularly."
"Physically she has impressed me," says his co-commentator, Jo Durie. "She is moving so well."
The players are hitting a few serves as the warm-up enters the final 30 seconds …
Rybakina, the Wimbledon champion, emerges on to Rod Laver Arena after Azarenka.
Which of these players will be smiling after two or three sets?
Victoria Azarenka takes to the court first. She is wearing a Paris Saint-Germain shirt over her regular kit. Why? It's because her seven-year-old son, Leo, wears one while watching her matches on TV or in the stadium. So they match.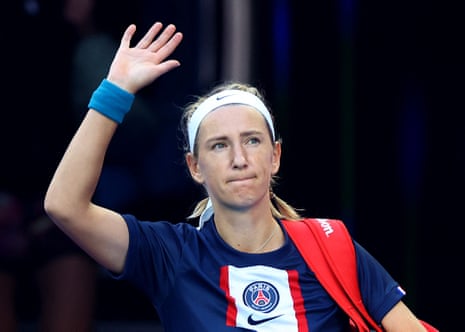 Alize Lim, the Eurosport presenter, asks Azarenka what is involved in the 'daily work' she has mentioned in managing her emotional life: "Be consistent with little things," Azarenka replies "Being on time, for me, is very hard. I'm trying to be a lot better … to keep yourself in check: I need to do this, I need to do that … it's very hard, but I'm excited that I'm trying to work at it."
The Eurosport team is assessing the chances of today's first semi-finalists. Tim Henman reckons Rybakina is the favourite for the title overall.
Azarenka, pictured speaking the sunglasses mentioned by Emma Kemp, says he wants "to push herself a little bit further" … and says she is trying to play on instinct.
"The more intuitive I play, the better. When you try to analyse too much, or complicate things, it becomes a problem. I am taking care of my emotions … I am playing with my heart."
You know what time it is.
"Since like 14 years old the coaches have been telling us 'we need new Americans, we need new Americans'. It's kind of engraved in my head. It's important to me. I think we all want it pretty bad for ourselves, but we want it for US tennis too."
Emma Kemp on Tommy Paul's surprising run to the men's singles semi-finals, flying the flag for the USA: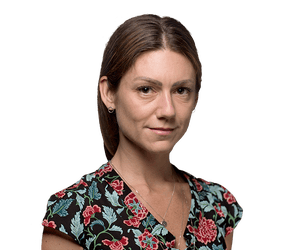 Emma Kemp
"Do you know what happened 10 years ago?" says Victoria Azarenka. It is hard to read her emotions because of the sunglasses she wears at her press conference, but her voice is laced with long-held contempt. Assumptions were made about what occurred at Melbourne Park in 2013 when the 23-year-old Azarenka, having just squandered five match points in her semi-final against Sloane Stephens, took a lengthy, controversial medical timeout before winning the match and then defending her 2012 title.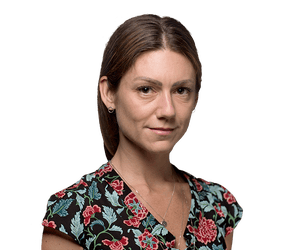 Emma Kemp
They still can't land on a nickname, but Australia's newest men's doubles pairing is one match away from keeping the Australian Open title in local hands.
Rinky Hijikata and Jason Kubler have been "winging it" through the doubles draw and on Thursday stormed into the final after smoking the far more experienced combination of Marcel Granollers and Horacio Zeballos.
"Srdjan Djokovic, the father of Novak Djokovic, has been pictured posing for photos with Vladimir Putin supporters at the Australian Open on Wednesday night.
Four men had been evicted from Melbourne Park by Victoria police on Wednesday night after chanting pro-Russian and pro-Vladimir Putin slogans on the steps of Rod Laver Arena while brandishing numerous Russian flags, including one with the face of Putin on it."
Tumaini Carayol and Nino Bucci report:
In a few hours' time there will be two players left standing in the women's singles at the Australian Open. Victoria Azarenka has been here before, although not since 2013, the year she won the second of two consecutive titles.
Azarenka's opponent in today's first semi-final, Elena Rybakina, has never previously been beyond the third round at Melbourne Park. She is of course a grand-slam champion, having prevailed at Wimbledon last summer, so has proved eminently capable of getting it done in these high-stakes matches.
Following that match, billed as the tournament's best server against its best returner, another potentially captivating semi-final awaits. Magda Linette of Poland has never previously been beyond the third round of any grand slam event, and she has played in 30. Standing in the way of the 30-year-old Linette is Aryna Sabalenka, the 24-year-old Belarussian who has raised her service game to devastating effect over the past couple of weeks.
This is going to be good. Rybakina v Azarenka is due to start at 8.30 UK time. Let's go!