Key events
Zverev beats Varillas! 6-4, 1-6, 7-5, 6-7(3), 4-6
Zverev seals his win, and points an index finger to his temple, presumably denoting his mental strength … he then roars with delight and relief after coming through a five-setter on his comeback.
Also in the men's singles, Alexander Zverev (12) is being taken all the way by the world No 103 Juan Pablo Varillas of Peru, but now has a couple of match points …
Varillas 6-4, 1-6, 7-5, 6-7(3), 4-5 Zverev
Stunning victory for Murray. Great to see him playing so well. Now, what else is going on?
Speaking to Eurosport's studio team, Murray says: "Amazing win. To stay with in that fifth set, when he was playing and serving as well as he was, was a great mental effort. Physically, obviously at the end, both of us are tired and I have really put a lot of work in the last three months. I have been playing well in practice. But in the last couple of years, I've lost a few of these matches in slams … that one could have got away from me, but I think all the work I've put in these last few months paid off there at the end, yes, I was a little bit lucky on the match point … but I earned that."
"I stayed remarkably calm at the end. Obviously I got a really good start in the tiebreak, which helped me … I felt like in the [final-set tiebreak] rallies I took the initiative when I could … I think I served quite smart throughout the match.
"He hit a pretty bad shot on the match point. I was lucky there, for sure. But I served smart, I played every point, and thankfully it was enough. I don't know what the final points total was. But through the match it must have been unbelievably close. There must have only been one or two points in it."
Tim Henman asks him if he should be diving on a hard court with a metal hip, referring to one specific shot.
"I'll probably find out tonight or tomorrow whether that was the right move … I was so close to the finish line there … it feels all right, just now, but let's see in a few hours."
"Amazing win. Get a good rest," Henman says at the end.
Murray is correct regarding the closeness of points won: 166 to him, 161 to Berrettini.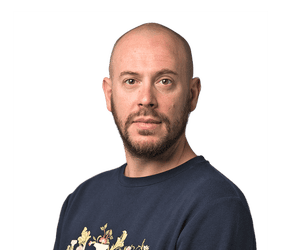 Mike Hytner
"Tennis fans have been spotted hoisting a Russian flag at the Australian Open despite a ban introduced by Tennis Australia earlier on Tuesday in response to strong criticism from the Ukrainian ambassador."
Earlier, play was suspended due to extreme heat in Melbourne, with temperatures climbing to 36C and above:
Murray speaks, standing on Rod Laver Arena, after a titanic battle with an opponent nine years his junior. The interviewer starts by pointing out that the 35-year-old Murray has not lost from two sets up for 18 years. Was Murray aware of that?
"I didn't know that, no …"
Next question: Murray must be tired?
"I'll be feeling this this evening and tomorrow. But right now I'm just unbelievably happy, very proud of myself. I've put a lot of work into the last few months with my team who are here, to give me the opportunity to perform in stadiums like this, in matches like this, against players like Matteo. And it paid off tonight."
Berrettini had won his previous nine tiebreaks at the Australian Open, the interviewer points out.
"I didn't know any of these stats – which probably helped," Murray chuckles.
"That's the first time I've ever played one of those 10-point tiebreakers. It's a bit different. When you're up 6-1, 7-1 or whatever, it feels like you're still quite far away. I was a bit lucky at the end with the net cord.
"Some of the tennis at the end was really good. It felt like that, playing. I don't know what it looked like. He was serving unbelievable. He's one of the best competitors on the tour. Yeah, I did well to get through … Thanks very much, thanks everyone."
The crowd roars. Wonderful stuff.
Murray will meet either Athanasios Kokkinakis or Fabio Fognini in the second round.
Murray defeats Berrettini! 6-3, 6-3, 4-6, 6-7, 7-6 (6-10)
Berrettini dumps a poor shot into the net! After a massive, massive struggle, he hands Murray his match point, and a place in the second round.
"Absolutely phenomenal," observes the commentator on Eurosport. Another Murray classic … what a win! Melbourne Park is the place where his colleagues on the tour effectively tried to retire him with that farewell video. And yet here he is. Murray applauds generously as Berrettini walks off.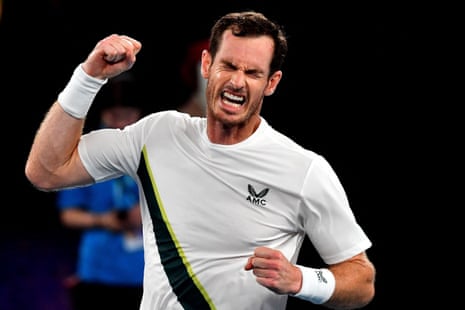 Berrettini 3-6, 3-6, 6-4, 7-6, 6-6 (6-9) Murray
Murray hits long for 6-8, then nails a couple of smashes to set up three match points!
Berrettini 3-6, 3-6, 6-4, 7-6, 6-6 (5-8) Murray
Berrettini bites back in a quite amazing point that Murray seems to have control of with a great forehand down the line … then a big serve from the Italian and it's 5-8 to Murray. The Scot can serve for the match and a place in the second round.
Berrettini 3-6, 3-6, 6-4, 7-6, 6-6 Murray
Two points away for Murray … 8-3.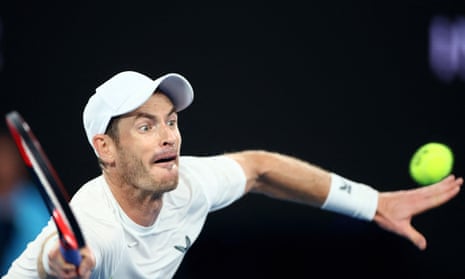 Berrettini 3-6, 3-6, 6-4, 7-6, 6-6 Murray (final set tiebreak)
It's 3-6 for Murray now as the Scot sends a forehand wide. A glimmer of hope for the Italian … first to 10.
Berrettini 3-6, 3-6, 6-4, 7-6, 6-6 Murray
Berrettini finally gets on the board. 5-1 in the final-set tiebreak.
Murray on cusp of victory against Berrettini
Hello everyone. Andy Murray currently leads a final-set tiebreak against Matteo Berrettini, 4-0 … and it's first to 10. Make that 5-0! Can Murray close this out?