Key events
25 min: Dias runs into the back of Ouattara, who falls over. No foul. Play goes on, so Ouattara clutches his head and the referee has no option but to stop play. Safety first, and all that … but there's quite a big loophole in this law, isn't there. Goodness knows how it can be closed, mind.
23 min: Traore brilliantly draws three City shirts down the left before flicking a glorious pass along the flank for Zemura, who zips off into space. He reaches the byline and crosses towards Solanke at the near post, but it's too close to Ederson, who plucks from the cold night sky.
21 min: Haaland makes good down the inside left, chasing Alvarez's pass, and his power earns a corner from a tight angle. Foden curls it in for Dias, who stoops to glance a low header wide right of the bottom corner. City appear to be in a business-like mood this evening.
20 min: … so as things stand, 12 Manchester City league wins in a row against Bournemouth is on. There's a League Cup win to add among those as well. Fair to say City would pick to play the Cherries every week.
17 min: That wasn't one of City's prettiest goals, but it was brilliant in its own right. Nothing would have happened were it not for the proactivity of Lewis down the right. What a tackle! Gundogan's pass was clever, Foden's toes twinkled, Bournemouth defended staunchly, but Haaland and Alvarez's opportunism won the day for the visitors.
GOAL! Bournemouth 0-1 Manchester City (Alvarez 15)
This is a great goal, and one that came out of nothing. Lewis slides in on Zemura down the City right to win a ball he had no right to win. Gundogan then chips it down the inside-right channel. Foden picks up possession in the box and rounds Neto, but his shot is blocked. Haaland powers in and forces a shot towards the top left. It cannons off the underside of the bar and drops to Alvarez, who prods home!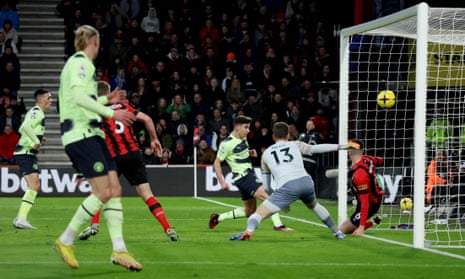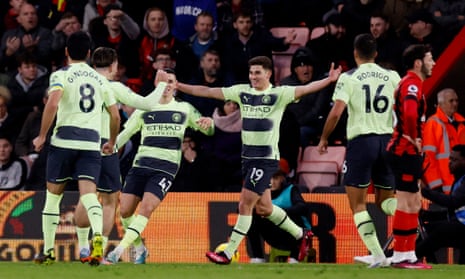 13 min: Dias creams a long pass down the inside-left channel from deep. Haaland nearly gets on the end of it but Smith eases him out of the road so Neto can come to the edge of his box to claim. Pep goes Reep.
11 min: Grealish has been impressive of late, and full of confidence he takes on Smith down the left. His cutback finds Foden, who initially tries to dink Alvarez into space on the penalty spot, then has a whack that's deflected clear.
9 min: Haaland bustles down the left and kind of scuffs his low cross into the Bournemouth box. Nevertheless it nearly finds Alvarez in the middle. Not quite, the ball rolling just out of the Argentinian World Cup winner's reach. Bournemouth clear with a sigh of relief.
7 min: Ah yes, here's why. A lot of space for Foden down the right. The ball's worked infield for Rodri, who aims for the top-left corner from the best part of 30 yards, but the heat-seeker is always fizzing high and wide left.
5 min: Ake's jet-fuelled backpass nearly puts Ederson into a spot of trouble. Bournemouth press high and hard, and Lewis isn't able to pass out from the back. Nothing comes from the resulting Bournemouth throw, deep in City territory, but the early signs suggest Bournemouth are treating this as a free hit, and are going for it to see what might happen. Why not?
3 min: Billing is involved again, this time setting off a counter. He slips Zemura into space down the left. Zemura crosses deep, but while Solanke causes bother at the far post, the ball doesn't drop for him and City deal with the situation. Some early promise for both teams.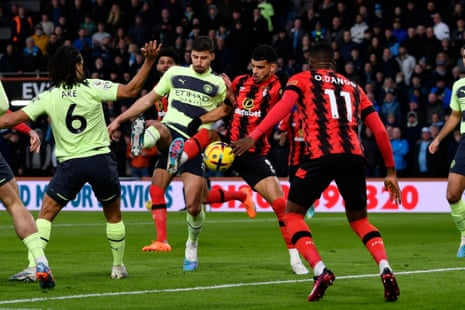 1 min: Bournemouth deal with it, Billing beating Rodri at the far stick to clear. What a start that could have been for the champions.
Bournemouth get the ball rolling … and give up possession in a matter of microseconds. That allows City to pour forward immediately, Grealish winning a corner after shooting from a tight position on the left.
The teams are out! Bournemouth are in their AC Milan inspired red and black stripes, while City wear their third-choice neon yellow. We'll be off in a minute!
Gary O'Neil speaks to Sky Sports: "We're the underdog today against the best side in the country … there's a real togetherness here … players, supporters and staff are a real close group … we're going to need everyone to be at their best … hopefully the boys can give a good account of themselves, the fans can be behind us, and make it as difficult as possible for a very good side."
Pep Guardiola adds: "Phil Foden should be himself, he doesn't have to prove anything … I did not see Kevin De Bruyne fully, fully, fully recover, that's why maybe for a few minutes is better than 90."
The 3pm kick-offs haven't done Bournemouth or Manchester City any favours. Arsenal won 1-0 at Leicester City to extend their lead over the champions to five points …
… while West Ham United thrashed Nottingham Forest 4-0 and Leeds United scraped past Southampton 1-0, results which plop Bournemouth back in the relegation places. For now at least. Aston Villa's 2-0 win at Everton may give the Cherries a little succour.
Bournemouth make one change to the XI that started the 1-0 win at Wolverhampton Wanderers last weekend. Marcus Tavernier is injured, so in comes Chris Mepham.
Manchester City make three changes to the starting XI sent out for the 1-1 draw in Leipzig on Wednesday night. Rico Lewis, Phil Foden and Julian Alvarez replace Kyle Walker, Bernardo Silva and Riyad Mahrez, who drop to the bench. Kevin de Bruyne returns from illness, but isn't risked from the start.
Bournemouth: Neto, Smith, Stephens, Mepham, Senesi, Zemura, Lerma, Billing, Ouattara, Traore, Solanke.
Subs: Travers, Randolph, Fredericks, Stacey, Rothwell, Christie, Semenyo, Anthony, Moore.
Manchester City: Ederson, Lewis, Akanji, Dias, Ake, Rodrigo, Gundogan, Foden, Grealish, Alvarez, Haaland.
Subs: Ortega Moreno, Carson, Walker, Phillips, De Bruyne, Bernardo, Gomez, Mahrez, Perrone.
Bournemouth have never beaten Manchester City. In the days before the Cherries hit the big time, the record was bad enough: six games in the old Division Two, City winning four, the other two matches drawn. However since Bournemouth first made it to the Premier League in 2015, the clubs have met 11 times, City coming out on top every single time, to the cumulative score of 34-6. If history has ever teed up a conclusion more foregone, we're not aware of it.
A win for the reigning champions and title contenders is very much odds on, then … but does history, recent or otherwise, hold out any hope for the Cherries? Well, there was a 3-3 draw at Maine Road in 1989, when Brian Horton's promotion-bound side shipped a 3-0 half-time lead, Bournemouth's Luther Blissett completing the comeback with a penalty in the sixth minute of injury time. The Cherries also gave it a good go in 2017, succumbing only to a late, late, late Raheem Sterling winner at Dean Court (for which the City man was then sent off for celebrating). And earlier this month, they held Newcastle at home, and probably should have won, part of a recent relegation-battling, gamefaces-on mini-revival. It's not much, but when you're zero for 17, it's better than nothing.
Pep and his majestic men meanwhile zone in on their third title in a row. A big task for Bournemouth, then. Can they shock the world of football? Kick off is at 5.30pm GMT. It's on!