Being a British player here brings its fair share of stress and off-court demands, the attention that much greater than they experience at any other event all year. And that's before someone invades the court and throws bits of jigsaw all over it.
For Katie Boulter, the interruption by a Just Stop Oil protester on Wednesday was a shock, but one she used to her advantage to claim a place in the second round.
Having resumed her rain-delayed match with Daria Saville of Australia trailing 6-5 in the first set, Boulter held serve but was then 4-2 down in the tie-break when a man ran on to court and scattered pieces of a Wimbledon jigsaw mixed with "environmentally friendly confetti".
Quite how a second invasion was allowed to happen on court 18 – Grigor Dimitrov's match was interrupted on the same court earlier in the day – will be a matter for the All England Club and security will no doubt be bolstered from here on.
Boulter, though, was unfazed by the delay, even helping out with the clean-up of the offending jigsaw pieces, winning five straight points to win the tie-break. She then eased through the second set for a 7-6 (4), 6-2 victory.
"I heard the crowd before I saw anything," she said. "Then I realised what it was because I saw it in the previous match. It was a little bit of a shock to the system.
"I think we both handled it really well. It's a really unfortunate situation for everyone. I wouldn't say I felt in danger. I was quite far away from it. I was walking the opposite side. I have faith in the system that they've got enough security in place."
The short break as the court was cleared allowed Boulter to reset and after winning the tiebreak her game began to flow. Saville, a former top-20 player making her way back after eight months out with a serious ankle injury, had no answer.
"I'm not really sure if it helped or not," Boulter said. "I won a lot of points after that. It was a really tough moment for both of us. We really didn't know what to do in that situation. It's never happened before to me.
"We were just trying to go with the flow. I kept my head really good in that time frame. The first point of the tiebreak after the 4-2 break was important. I managed to get a long point and it gave me a bit of momentum."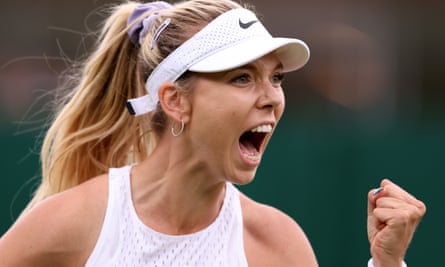 It was a win that also cements her place as the British No 1, something that had been under threat from Jodie Burrage. But with Burrage outplayed by Daria Kasatkina on Centre Court, Boulter's victory will move her up 11 places to around 78 in the rankings. More importantly, she is through to the second round for the third year in a row and will play the world No 99, Viktoriya Tomova, of Belarus, who upset the No 27 seed, Bernarda Pera, for a place in round three.
"You can look on paper and say whatever you want, but I'm going to have to bring some game and work hard," Boulter said. "I'm looking forward to it already."
It is eight years since Heather Watson's finest moment here, when she was two points away from beating Serena Williams in the third round. Her ranking has dropped to No 144 lately but she put up a more than decent fight against Barbora Krejcikova before going down 6-2, 7-5.
Outplayed in the opening set, Watson lifted her game in the second and saved three match points in the 12th game but her resistance finally ran out and Krejcikova, who won the French Open two years ago, broke at the fourth time of asking to clinch victory.
The British wildcards Arthur Fery and George Loffhagen showed plenty of talent and fight in their first main draw appearances but went down to defeats. Fery retrieved an early break against the third seed, Daniil Medvedev, in the opening set and entertained the crowd with some exciting play but he was beaten 7-5, 6-4, 6-3 by the Russian. Loffhagen went down 7-6 (4), 6-3, 6-2 to Holger Rune, the No 6 seed, in a match held over from Tuesday because of rain.