There is a nice note of circularity about the re-emergence of Roy Hodgson, English football's own courtly blazered grail knight, in the same week that Gareth Southgate sets off on what will surely be his own final story cycle as England manager.
Hodgson is of course Southgate's de facto predecessor in the job, setting aside the one-game Sam Allardyce interlude, which feels more than ever like the managerial equivalent of a half-remembered lost weekend on a Norwegian booze ferry. As England prepare for the double-header against Italy in Naples and Ukraine at Wembley, first steps on the gentle downhill slope towards Germany 2024, it is worth remembering just how lost they were back then.
Which was, to be clear, very lost indeed. Hodgson's own time did at least provide some variation, veering between the slow-burn humiliation of Kyiv 2012, the more vivid and sustained humiliation of Brazil 2014, through to the generational humiliation of Nice two years later, Hodgson emerging for his final bow looking like a casino floor roué still dressed in last night's tuxedo, the weight of a half-imagined sporting empire on his sagging shoulders.
It is worth remembering all this, if only because the journey from there to here has been a little undervalued. If Southgate makes it to Germany he will become the first proper England manager to take the team to four proper tournaments.
Walter Winterbottom lasted four World Cups, but he was more a kind of house master figure, cooking dinner and doing the washing up, taking the players to the opera. Sven-Göran Eriksson got three tournaments, Bobby Robson three and Alf Ramsey three in less congested times (the internet will tell you Ramsey also reached the quarter-finals of Euro 72 but in fact this was a losing two-legged playoff to get to the tournament proper).
In the shadow of this Southgate, so awkward in his early public appearances he was described by one wag as resembling an anteater that is only now realising it's not supposed to be able to talk, has become the curator of England football's most sustained period of success in the last half century.
It is worth remembering this too, as the endgame starts to take shape. In many ways the best England Southgate is still early England Southgate, that beaky figure in the rented wedding suit who seemed for one sunlit summer to be proving that this isn't an impossible job after all.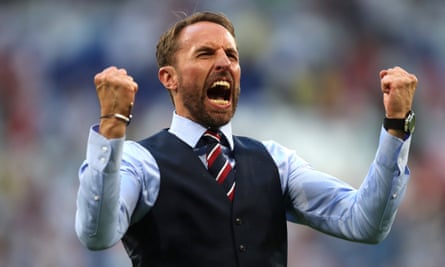 Over time, as simple competence has been met with a chorus of howling public dismay, Southgate has established the opposite. This thing really is doomed, to the extent we have now reached a peak moment in the Gareth Paradox, the logic of which goes a bit like this.
Southgate's early success was based on shedding the burden of English exceptionalism. In doing so he also dramatically reinvigorated English exceptionalism. As such, and thanks to his own early gains, Southgate is now considered by some a national disgrace, the poison not the cure, for the crime of failing to win three straight tournaments playing all-out attacking Albion-ball. Winning just a bit is not enough. Only all of the winning will do.
There is no escape route from here. If England go on to win Euro 2024 playing classic Southgate-style roundhead football he will be condemned for not winning it right. If England win playing thrilling, fast-forward football there will be uproar and told-you-sos at the failure to do this previously. Not winning Euro 2024, the most likely outcome for every manager present, will see Southgate waved off by many as an outright failure; whereas in reality he is the precise opposite, a qualified and commendable success.
In part this is related to tribal politics. Southgate has supported his players in protesting against racism, has expressed misgivings about the state of England. He's still "Nord": a little gawky and well-spoken, unblokey and academic in his approach. For these crimes some will never forgive him.
Mainly the hostility is based in a loss of scale, the refusal to accept that England can be just quite good, that England winning is not the natural order of things, anything else a baffling aberration. Or indeed that if Southgate were simply to maximise the attacking power, to let slip the dogs of Gareth, stop tying us in defensive red tape, then the world would kneel before Albion as it longs to deep down. Southgate succeeded by knowing the limits of his team. This was never going to be enough. We demand our sunlit uplands of the half-imagined past.
There will be more talk of how exactly England are going to play now, if the style of this team can become a little more geared towards attack. And it is a point worth making, firstly because England did exactly this at the World Cup; and second because this group of players looks equipped to take it a little further.
Defeat by France in Doha was useful in this regard. First because Southgate did all the things he is often accused of ducking. The team for a World Cup quarter-final was a 4-3-3 with Kane-Saka-Foden-Bellingham and four attacking subs to follow. England had 16 shots to France's eight and 57% possession.
They got stronger as the game wore on and dominated midfield in the second half, a reversal of the pattern of recent tournaments. Only the most committed anti-Southgate truther could find a timidity in the approach here. England lost because France have mature, high-grade players in all positions, and executed the fine details better (such as, for example, not gum-booting a late penalty over the bar).
But there is room to take this further now. Southgate should also have learned from the experience. And the squad has improved even in the last four months. Reece James is a major addition. Jack Grealish is playing well for Manchester City. Bukayo Saka gets better with every game. Jude Bellingham is on a constant upward curve. Ivan Toney looks like actual centre-forward backup. Marcus Rashford will hopefully bring new unstoppable Marcus Rashford when he returns.
The same weaknesses remain. Jordan Pickford is a good but not A-grade goalkeeper and the same can be said of the centre-backs. England lack a really good controlling player in midfield. But there is encouragement in Southgate's best solution to this, which does not involve playing five defenders.
The great gift from the World Cup is the evidence that Bellingham's all-round pallet of skills means Southgate can play a three-man midfield while protecting defensive weaknesses and retaining attacking strengths. The presence of Kalvin Phillips in this squad has drawn enmity, and the dread accusation of "loyalty", which is always a terrible thing. But Phillips is in because that role is vital to releasing these strengths, and Southgate doesn't have many midfielders who can run and pass and cover.
It seems clear Southgate would ideally have Phillips in that three. This isn't loyalty. It's an investment in a player who has the required skills to make that shape work and free up rest of the team.
And so on to Germany, which feels like a Southgate kind of tournament. His professional life still revolves around the moment at its centre: the primly scuffed Euro 96 penalty, Andreas Möller's wildly infuriating victory prance, that profound sense of an endless England operetta of hope and misfortune. By the end of Germany 2024, should England get there, only Ramsey and Winterbottom will have managed more games. Southgate himself will have spent 20 years of his life as an England player and coach, defining the role more clearly than any other modern incarnation.
History suggests there are no happy endings in this job. Not to mention very few happy beginnings or happy middle periods. But Qatar 2022 was paradoxical too, arguably Southgate's best tournament in terms of fluency and development despite the less showy end result. England have made a habit of losing a few of these limb-weary midweek filler games. But there is still a chance here to end on a major chord.