NEW GROUND
Melksham Town are no strangers to history. Who could forget their Wiltshire Football League title in 1993-94 or Gareth Lewis's rather ludicrous tally of 72 goals in 1968-69? On Wednesday night they will mark another landmark occasion when Forest Green Rovers arrive at Oakfield Stadium with Hannah Dingley at the helm, the first woman to take charge of a men's Football League team in the UK.
Once Duncan Ferguson decided that a diet of vegan burgers and losses was not for him, Forest Green owner and publicity fan Dale Vince promoted academy manager Dingley to the caretaker role. "Hannah was the natural choice for us to be first team interim head coach – she's done a fantastic job leading our academy and is well aligned with the values of the club," parped Vince in the few seconds he had spare between funding paint enthusiasts and sparring with right-wing TV presenters. "It's perhaps telling for the men's game that in making this appointment on merit, we'll break new ground."
Dingley, naturally, has a number of shortcomings involving not being a Proper Football Man, but makes up for it in other small ways – like having a Uefa Pro Licence and years working as a coach in actual professional football. "I'm really excited for this next step of my career," she declared. "Pre-season has just begun and the full season kicks off very soon. It's an exciting time in football. I am grateful for the opportunity to step up and lead such a progressive and forward-thinking club."
Doubtless, there will be some angry men left on the embers of remaining accessible Social Media Disgraces not pleased by the appointment, despite it being temporary, not involving their club, having no actual impact on their life and being wholly justifiable. History may also point to Helena Costa's groundbreaking tenure with Clermont Foot in 2014, when she quit without taking a training session, let alone a game, claiming to have been undermined and sidelined by male colleagues. Dingley, however, is a touch more optimistic. "I am grateful for the opportunity to step up and lead such a progressive and forward-thinking club," she cheered. All eyes on Wiltshire, then.
LIVE ON BIG WEBSITE
Join Will Unwin from 5pm BST for hot MBM coverage of Israel 1-2 England in the Euro Under-21 Championship semi-finals.
QUOTE OF THE DAY
"What he did for Millwall over so many years was both extraordinary and exemplary. He trusted his staff to get on with the task at hand, but was always unwavering in his support in so many ways. John's endless passion for Millwall was infectious. He was so incredibly dedicated to the club and year after year showed remarkable energy and drive to keep us progressing on and off the pitch … He loved the time he would spend walking the perimeter of the stadium to speak to supporters, and his lap of honour before the final game of [last] season – in hindsight an even more profound moment now – was amazing to witness. I feel so desperately sad for John's family and our thoughts and prayers are with them at what is just such a devastatingly cruel time" – Millwall chief executive Steve Kavanagh pays tribute to the contribution of owner and chairman John Berylson, who has died aged 70 in what the club have called "a tragic accident".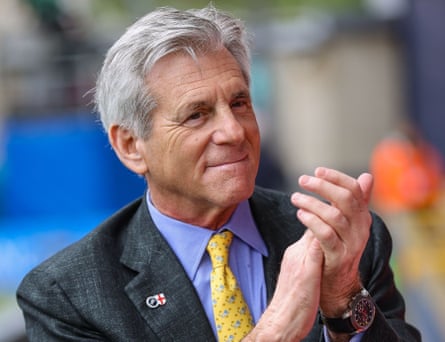 Re: the photo of Steven Gerrard with Al-Ettifaq president Khaled al-Debel after signing (yesterday's Football Daily). Does it ever get cold enough to wear a scarf in Saudi?" – Andrew Douglas.
Re: Gerrard being about to 'manage an unspeakably wealthy club in a league hosing obscene amounts of petro-dollars at assorted players in a bid to raise its standard and profile' (yesterday's Football Daily). Sounds very much to me what the Premier League did/is still doing, but with the addition of gambling money and USA! USA!! USA!!! hedge funds now those Russian and Chinese funding streams have hit the buffers" – Jon Deacon.
I hate to poke a pedantic pin into the bubble of schadenfreude surrounding the supposed faux pas about what is, in fact, referred to in Germany as the 'Borussenderby' (Football Daily letters passim), but part of pedantry involves irrepressible urges, so here I am. The word Borussia is a sort of Latinisation of Preussen, aka Prussia, so there is a geographical connection as this part of the Rhine-Ruhr area, where both Dortmund and Mönchengladbach are, was once part of the kingdom of Prussia. Doesn't explain why Preussen Münster are not Borussia Münster, though … On a related note, I had a conversation with a fellow railway traveller in the bar car on an overnight Seattle to Oakland run, who wanted to talk about German football when he heard I grew up there. He was aware that Bayern meant Bavaria, and he asked me how popular 'Bayern Leverkusen' were in comparison to Bayern Munich. I tried to explain in a long-winded (and no doubt pedantic) manner about works teams and Bayer (you know, like, the aspirin company) and he just wasn't buying it. I made a tactical retreat to sleep in my seat" – Volker Stewart.
The changing rooms at Bramall Lane in 1984 (yesterday's Memory Lane, full email edition) don't seem to have been much better than when I played representative football there in 1969. Much as I love the Blades, they do seem to specialise in doing things on the cheap. In his biography, Alan Hodgkinson recalled the promise by the then-chairman in the restricted-wage era of the early-1960s that promotion to Division One would be rewarded with 'something for a rainy day' from the board. True to his word, following the team's success, each player received a raincoat and a barometer" – Trevor Townson.
Send your letters to [email protected]. Today's winner of our prizeless letter o' the day is … Jon Deacon.