The final scene was back-to-front, each actor playing the wrong part. Dejan Stankovic's Sampdoria had just lost 4-2 to Juventus, a result that left them joint-bottom of Serie A amid ongoing concern that the club could face bankruptcy at the end of the season. Yet there he was at full time, pulling Dusan Vlahovic into an embrace and offering consolation to the striker whose team had just beaten his own.
"I spoke to him like a father to a son," said Stankovic. "He's the same age as my oldest, Stefan. He must not give up, he's a top attacker. Careers fly by these days, and he needs to keep himself at the highest level. He'll get there. He's a serious professional and a born goalscorer."
Despite ending on the winning side, Vlahovic has failed to find the net for six consecutive games – his longest dry run since joining Juventus for €70m last January. He missed a penalty on Sunday, firing against the post, and later saw a header pushed onto the crossbar by the Samp goalkeeper Martin Turk. Even in defeat, Stankovic saw his fellow Serbian as a man in need of support.
On Oscars night, perhaps it was fitting that we got a game rich with individual character drama. Even before kick off, there was a fresh instalment of the Paul Pogba Saga, the Frenchman ruled out after initially being named in the matchday squad. Massimiliano Allegri said he had "injured himself taking free kicks" during morning warm-up exercises.
Pogba has made two substitute appearances for a total of 35 minutes since returning to Juventus last summer. Knee surgery and a nagging hamstring issue have mostly been responsible, but there are questions about his approach too. Allegri omitted him from Thursday's team to face Eintracht Frankfurt in the Europa League after the player showed up late for training.
This is not what Juventus envisaged when they made Pogba their highest-paid player, rejoining from Manchester United on a contract running through to 2026. Fortunately for them, his compatriot Adrien Rabiot has produced the best season of his career after the Bianconeri failed in an attempt to send him in the opposite direction. He did not score even once last season but is Juventus's second-most prolific player this campaign with nine goals.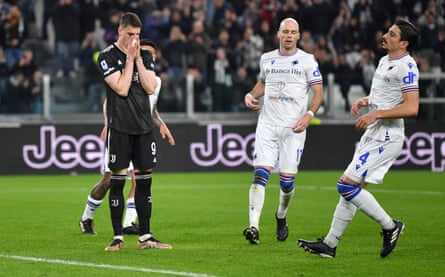 Two came on Sunday, a thumping header and a brilliant half-volley – though the second should probably have been disallowed. The available camera angles did not offer a totally conclusive view on whether Rabiot had used his arm to control Nicolò Fagioli's pass, but the Frenchman's reaction suggested that he expected a whistle.
It was a pivotal moment. Juventus had jumped into a two-goal lead, Gleison Bremer heading home at a corner before Rabiot grabbed his first. But they allowed Sampdoria back into the game before the interval, conceding twice in 72 seconds.
The defending was lackadaisical but Sampdoria played with a courage and directness that belied their league standing. They had previously scored just 11 goals in 25 games, yet Tommaso Augello took his chance ruthlessly when Mehdi Léris's shot deflected to him and Filip Djuricic was just as cool in converting Alessandro Zanoli's cross. The Serbian bested Juventus's defenders repeatedly with his dribbling throughout the first half, his performance reminiscent of his best days at Sassuolo.
His equaliser was a brief moment of joy in a grim season. Sampdoria have not won a game since early January and even more troubling events continue to unfold off the pitch. The Blucerchiati only narrowly avoided a points penalty for unpaid wages last month when players agreed a last-minute deal to forego what they were owed for December.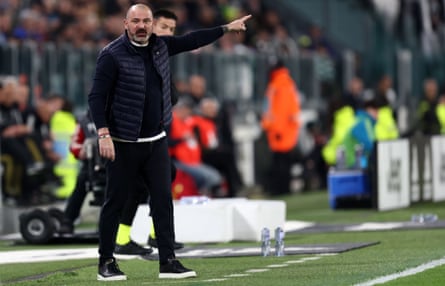 This was only a temporary reprieve. A negotiated settlement with the courts granted them 120 days to either repay or find agreement on restructuring of €200m in outstanding debts. The window expires on 6 June, two days after the end of the season. If no solutions are found by then, creditors can force them into bankruptcy.
What chance is there for a positive resolution, while Sampdoria's boardroom is gripped by an internal power struggle? The former defender Marco Lanna has served as club president since December 2021, when Massimo Ferrero was forced to stand down following his arrest for alleged corporate crimes relating to his other businesses. Yet the latter figure remains Sampdoria's majority shareholder, and a court-imposed ban on him holding a director's position expired at the end of last year.
Ferrero has attacked Lanna in interviews, calling him "the worst president in the history of the club", but fans have protested against his potential return, with some writing to the sport's governing bodies asking them to intervene. Even before he stood down there were plenty who had taken against a man who first rose to prominence as a filmmaker and who some perceived as more interested in his own celebrity than their club's success.
The story has taken some extremely dark turns. Last month a pig's head was delivered to the club's headquarters, with a note threatening Ferrero and Antonio Romei, the Sampdoria vice-president, which read: "The next heads will be yours". Prior to that, a bullet had been sent addressed to Ferrero and Edoardo Garrone, the previous owner.
How much have these events impacted the team? Stankovic has done his best to stay on message, returning all conversations to what happens on the pitch and insisting that players are focused on the task at hand. Still, you could hardly blame anyone, against such a backdrop, for struggling to deliver their best.
Sampdoria came close against Juventus, showing resilience after a bad start. They faded in the second half but it is impossible to know how things might have ended were Rabiot's goal disallowed. "It clearly hits his arm," said Stankovic at full-time. "You can see it from how his bicep moves … maybe I lose this game all the same, but let me stay at 2-2 here, at least."
Even so, he refused to dwell on self-pity. Juventus sealed the result with a goal from the teenager Matìas Soulé, who pounced on the rebound after Vlahovic was denied by Turk for the last time. Stankovic, in that moment, felt compassion for an opponent as much as his own team.
Sampdoria's next game will be a crucial one, at home to 18th-placed Verona. They are 12 points adrift of safety. More improbable escape acts have been produced before now, but not many. It would take one heck of a script.