The narrative in the Women's Super League title race has been whether Arsenal can end Chelsea's hopes of a fourth consecutive league title. Manchester United have performed well, but their slide last term, as the season wore on, has meant Marc Skinner's side have been somewhat overlooked. But as United travel to Reading on Sunday and the season passes its midpoint, the picture is increasingly rosy for them.
They sit second in the league, three points behind Chelsea who have played a game more, and are level on points with third-placed Arsenal – with a superior goal difference. In the second half of the season, United host Arsenal and Manchester City, teams they took four points off away, and travel to Kingsmeadow to face Chelsea. The champions must also play their title rivals, while Arsenal and Manchester City still have to play each other twice.
The schedule has been kind to United, especially with Arsenal and Chelsea having progressed to the Champions League quarter-finals and adding extra high-intensity games to their calendars. But it is not just the fixture list that has helped United bridge the gap between the established top three and the rest.
Skinner says: "The difference is we've had experience together, we believe in each other, we trust each other, and it's not always rosy, you have challenges and so on. It's the experiences we've had together and it's the disappointment that fuels you. But we've done nothing yet. We know what we want to achieve here, and we are fiercely ambitious."
It is that cautiousness and an attempt to switch off from the increasing expectation that has been critical to United's success. The humbling slump in the second half of last season that saw them finish five points off third-placed City was a crushing blow, but it has instilled a doggedness. In November they were 2-1 down to Arsenal with five minutes to play, having thrown away the lead, but fought back to win 3-2.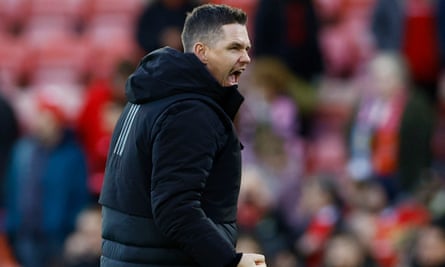 "It's about belief most importantly," says Skinner. "Unfortunately, losses set you up for success, because you learn from them. What we've decided as a group is we're not going to worry about the noise around us. For us, it's about focusing on what we can control and that alleviates any pressure. This badge wears heavy if you're not prepared for it."
Time has been critical. Not only does the core of Skinner's squad now have experience of a few seasons in the WSLbut his players have benefited from the addition of four European title winners. Mary Earps, Alessia Russo, Ella Toone and Nikita Parris have tasted success at the top level and are feeding that back into their new club.
The maturity of the squad has meant United have been able to plan for the long term, too, recruiting Carrie Jones and Grace Clinton only to send them out on loan: a strategy commonly used by the top teams, but not usually a luxury afforded those with weaker squads.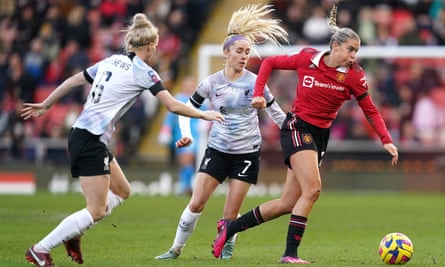 "I want an ultra-competitive team," says Skinner, now working with a new head of women's football, Polly Bancroft. "We can't stand still. Talented players that will make us better, if they're not ready for now then they've got to be ready for the next two or three seasons.
"I'm trying to plan ahead with Polly and the crew here to put us in a good position so that if we do achieve success, we don't stand still beyond that. We don't want to be a flash in the pan. We want to be planning and preparing and that's why we're using the loan market."
A settled squad has given Skinner and his staff the space to work on tactics, and it shows. United have the fourth best defence in Europe. "There are different systems, different ways of doing things, some teams can go back to front and score very quickly without really having to defend from the front," he says. "My teams will always defend as a group. That starts from Alessia and goes all the way back.
"I just believe that as a team you function better. That's why we keep clean sheets and that's why we create so many chances and have so many different goalscorers. Our team will never be about one star player, it will be a collective. So we work hard at that, we work hard at pressing, we want to gain the ball so we can play with the ball, and when you keep the ball like we do it's always difficult for the other team to attack.
"Our defence is really solid, our positioning is excellent and it is the collective which is key."