As the Ashes circus arm-wrestles into position in Leeds, wistful eyes cast back to 2019, when Ben Stokes carved out the second Headingley miracle of the ages. But not all England players have fond memories of surly skies and the Kirkstall Lane end.
It was at the Headingley Ashes Test of 1997 that Gloucestershire's Mike Smith won his one and only England cap, during that relentless period of Australian dominance. It was one of England's flightier performances: Jason Gillespie grabbing seven for 37 during a disastrous first innings, before Australia ran up 501, declared, and then rattled through England again to win by an innings and 61 runs.
Smith (23-2-89-0), was the leading wicket-taker in the country at the time and had very handily picked up 10 wickets at Headingley when Gloucestershire played Yorkshire in early June. His left-arm swing bowling had been mentioned in dispatches by the media and he was duly whistled up by David Graveney, the chairman of selectors, as a late call-up for the match.
However, there were none of the trinkets and ceremony that accompany today's England's debutants, with Smith being told he had made the XI less than an hour before play started. He had a feeling in his bones that all was not well.
"I couldn't put my finger on it, but I knew something wasn't quite right," he says. "There was a bit of controversy about who was going to play, either me or Andy Caddick, and it was a decision that went right to the wire and involved quite a lot of people – unbeknown to me at the time. Anyway, they plumped for me and I think it is fair to say that some people disagreed with that decision.
"It didn't go my way. If you are picked as a swing bowler and if you don't get the ball to swing then all of a sudden there's a problem in terms of your potency and that's the way it worked out. I don't know why, even to this day. Maybe I was a bit tense, I didn't feel it but maybe subconsciously and the wicket was a tiny bit abrasive and that took the shine off the ball pretty quickly.
"I had a catch dropped. I didn't get a wicket, I didn't bat very well, I dropped a catch and they'd seen enough, I didn't get picked for the next Test. The disappointing thing for me was that I didn't do myself anywhere near justice."
As well as not performing as he would have liked, Smith got something of a pasting in the press – with Wisden calling his selection "a disaster".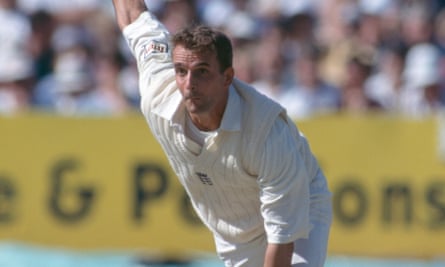 "I remember going into the press conference, I must have had a book under my arm, and the Sun called me a fast-bowling librarian. Then this fella came over after I'd left the press conference and asked, if you weren't a cricketer what would you have been? I said that I had studied French and German at university. That was the extent of our conversation, but in the paper he said that I turned down a job at the European Union as a translator. It was quite amusing but completely untrue."
At the end of the Test, Smith returned to Bristol. "It was good to be back to what I knew and they were very supportive, they knew it hadn't gone well." He didn't hear the tinkle of the selectorial phone again and while the rest of the players from the series went on a tour of West Indies, Smith was left at home.
"I understand, it wouldn't have suited my type of bowling. I was never going to play 50 Test matches but I might have played three or four. I was no spring chicken, but I was bowling well and I was quite confident, but it just didn't happen for me. I get mentioned in the top 10 worst cricketers to play for England. I've seen those websites and I just think fair enough, but it wasn't anywhere near the best I could play."
These days, he is a match referee in the summer and an employment lawyer in the winter. Softly spoken, he sits in the press tent during the championship match between Lancashire and Hampshire at Southport and, while keeping an eye on the umpiring decisions, is engaging company.
He did a law degree during the winter while he was a player and qualified after retirement. He was the Professional Cricketers' Association's employment lawyer and deputy chairman of the Cricket Discipline Commission, but had to stop both of those when he took up the match referee role.
"It is good fun. We compile a report on the pitch, assess the umpires' performances, the conduct issues of players, concussion replacements. We are there to ensure everything runs as smoothly as it should do. The pitch assessment is very important, it is important for English cricket that county cricket is played on the best possible pitches, not ones that suit the home side."
Does he still think about his one Test? "I'm quite phlegmatic as a character, I managed to put it behind me pretty quickly. Life doesn't always go as you want it to. And it was great when Andrew Strauss organised the England players' dinner a few years ago, even with one cap you get invited to that.
"With me, it was the specific individual circumstances around selection that were tricky. He was perfectly professional but it's fair to say Michael Atherton [the captain] would have preferred Caddick and to be honest so would I. It would have been a better option. He's a super bowler and about two feet taller than me as well."
With that Smith smiles, takes his walkie-talkie out of his back pocket and goes to sort out some business with the heavy roller.