Forget Manic Monday and Super Sunday: welcome to Wild Wednesday. Because of the sort of weather which Tube announcers quaintly always describe as "inclement", the entirety of Wimbledon's Tuesday outdoor play was a washout. This means there are a lot of matches to catch up on. A lot. Eighty-seven matches to be played, in fact, before curfew at 11pm. And I have been tasked with watching them all. It occurs to me that I could do with Rishi Sunak's helicopter. The day's forecast, however, is for bright skies with some cloud and, all importantly, no rain.
At 10.30am, a half-hour before the day's play begins: rain. It does not stop until 1.30pm, apart from a brief interlude, then the canopies of umbrellas go back up. It's at this point I think: you know what, probably not gonna end up watching 87 matches today. But at circa 1.45pm, we're off and I head to Centre Court to watch Russian Daria Kasatkina take on the home hope, the British No 2, Jodie Burrage – who is in form having reached the final of the Birmingham Open a couple of weeks ago. Unfortunately, Kasatkina is also in form – and is the world No 10. Kasatkina takes the first set 6-0. This is known as being bagelled.
But the crowd goes wild when Burrage breaks at the beginning of the second set … before Kasatkina breaks right back. Then it rains again. Who'd have seen it coming. In scenes I have never actually witnessed before, the military attendees wheel the umpire off court without him leaving his seat, which is objectively very funny. I check my phone and see that Just Stop Oil have managed to get on to Court 18 to protest during a match between The Most Handsome Man in Tennis (or at least, vying for it with Matteo Berrettini), Grigor Dimitrov and Sho Shimabukuro. The confetti the protesters brought was apparently hidden in a box for a Wimbledon puzzle. This is also very funny. Kasatkina goes on to win. Meanwhile, on No 1 Court, Medvedev has won in three sets against the young Brit Arthur Fery. Russia two, Britain nil.
I dash to outdoor courts numbers 14-17. It is extremely hard to see anything as crowds of tennis-starved fans are eight-people deep peering in. Imagine a busy Friday night at a pub, but also it's the barman's first day. Over a woman's hat which features a tennis ball (unhelpful), I clock Rebecca Peterson, who sounds like she should be British but is in fact Swedish, playing against the rather forgotten former US Open champion Sloane Stephens, who has already broken the Swede in the very first game. (She goes on to win 6-2, 6-3.) The other courts in this area are too crowded to see anything, so I abandon them before it rains again (which, naturally, it does).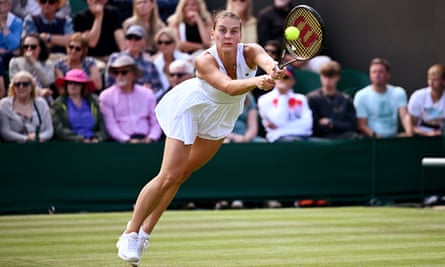 On the other side of the grounds on No 2 Court, the Greek Maria Sakkari is taking on the Ukrainian Marta Kostyuk. Sakkari has dished out a bagel of her own in the first set. I catch Kostyuk breaking to take the second set 7-5. I ask a fellow spectator, Catherine, who she is supporting. Her son Enzo, she tells me, who is a ball boy. Kostyuk goes on to win 6-2 in the final set; the first time she's beaten Sakkari in three tries. Over on Court 12, I arrive just as Brazil's Beatriz Haddad Maia is about to break the unfortunately named Yulia Putintseva in the third set. Which she does, with an incredibly jammy net cord. But Putintseva seems more annoyed about something else. "She's always with the towel!" she says to nobody in particular. Haddad Maia goes back to the towel. "Of course," Putintseva says. "Of course."
I've seen enough. By which I mean, I am now stressed. I stand in between courts 9 and 10, my head swivelling around. I arrive just as South African Lloyd Harris wins a second set tie-break to level his match against Grégoire Barrère who, as you might imagine, is French. On the adjacent court, Roberto Bautista Agut is up against Roman Safiullin. Their match is stopped when Barrère shanks a ball and it bounces on to their court.
Next stop: disaster is unfolding as Camila Giorgi is about to go 5-0 down against Varvara Gracheva. "That's not good", says a passing guy sipping a Pimm's. It isn't. No 3 Court, and I see that the charismatic American Frances Tiafoe has won the first two sets against Wu Yibing. I then witness five breaks of serve in a row as each play stunning passing shots. Meanwhile, Iga Swiatek is on Centre Court, and I already know by the time I get there – and it's literally two minutes walk away – she will have won. She does: 6-2, 6-0. It is the third bagel of the day – and yet here I am, still without lunch.
But I have a plan! I take an innovative, possibly unsportsmanlike approach. Which is to say I ascend to the media centre roof terrace so that I can watch five matches simultaneously. On one hand this is cheating. On the other? Eighty-seven matches, guys.
I stand sentry-like, on the balcony, overseeing five courts. Or at least I do when Tim Henman, who is doing a piece to camera, moves out of the way. Even though the Latvian and highly amusing character of Jelena Ostapenko is furthest away from me, I can easily make her out by the fact she is holding her hands on her hips while questioning a line-call. For Ostapenko, this is like breathing. Nearest to me, I watch as Croat Borna Coric breaks to go 2-0 up in the fourth set against the recently injury-returned Argentinian Guido Pella. On the two courts in between, fellow Argentinian Francisco Cerundolo (and the older brother of Juan Manuel, who was Jannik Sinner's latest victim on Monday) is smashing his usual deadly forehand past Nuno Borges, a good clay court player but who isn't up to much on grass. And Milos Raonic, a 32-year old Canadian probably playing at his last Wimbledon, is about to beat Dennis Novak. I hear Novak is a good name to have in tennis.
Finally – and now it's 6pm and I have to file, like, now – I check out Katie Boulter, British No 1 and girlfriend of fellow tennis pro Alex de Minaur, also from the roof. I watch as she breaks in the second set on the way to beating Daria Saville, whose partner is also a tennis player (now you understand why the Wimbledon organisers had to plead with people not to have sex in a designated quiet room). Boulter's is the 11th match I have witnessed with my own eyes. Eleven is not, I know, 87. But 11 matches in less than four and a half hours? It's a clean winner.