Key events
79 min: That goal came just seconds after Ghana had made a double-substitution, with Andre Ayew making way for his brother Jordan, while Osman BNukari replaced Mohammed Kudus.
GOAL! Portugal 2-1 Ghana (Felix 78)
Portugal retake the lead! It's a lovely finish from Joao Felix, who lifts the ball over Ati-Zigi as he advances down the inside left of the Ghana penalty area.
74 min: Having been playing in his preferred position of midfield, Muhammed Kudus at time looked a liability in the first half, constantly giving the ball away. Now paying further upfield, where he's much more effective, he's just had a rasping shot saved before teeing up Andre Ayew for Ghana equaliser with a pull-back through the legs of a Portuguese defender.
GOAL! Portugal 1-1 Ghana (Ayew 73)
Ghana equalise! Andre Ayew prods home a Muhammed Kudus pull-back from the byline to restore parity for the African side.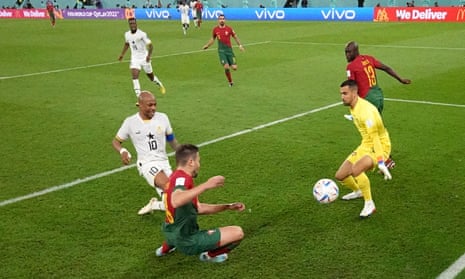 71 min: Latching on to a Thomas Partey backheel, Muhammed Kudus stings the palms of Portugal goalkeeper goalkeeper Diogo Costa with a rising drive.
68 min: Ghana substitution: Otto Addo makes the eminently sensible decision to remove red card-in-waiting Alidu Seidu and replace him with Brighton's Tariq Lamptey.
66 min: I'm not so sure that should have been a penalty, as Mohammed Salisu seemed to get his toe to the ball before makingh contact with Ronaldo as he veered across him. Having said that, my opinion doesn't matter and Morocco born, Texas-based referee Ismail Elfath clearly disagreed.
GOAL! Portugal 1-0 Ghana (Ronaldo 65pen)
Portugal lead! After lengthy protests from Ghana's players, Ronaldo steps up and buries the ball past Lawrence Ati-Zigi. He's now scored at five World Cups.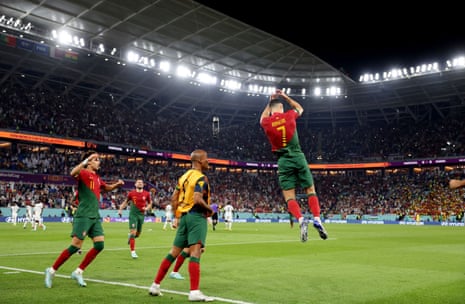 61 min: Ronaldo goes down in the box under a challenge from Salisu and the extremnely lenient referee points to the spot.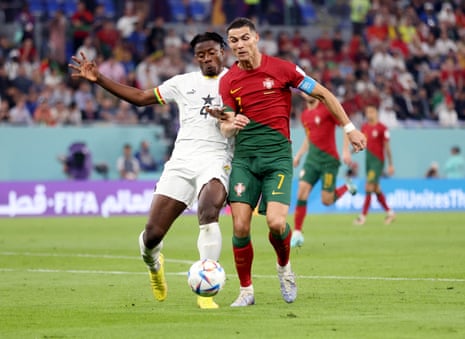 60 min: I can't believe Seidu got away with that. While Felix was the intial aggressor, the Ghana full-back went nose to nose with him and shoved him backwards with his head. It wasn't the most violent butt you'l;l ever see, far from it … but I've seen players get straight red cards for such actions in the past.
58 min: Already on a yellow card, a violently protesting Seidu is led away by his teammates after going face to face with Joao Felix, getting right up in the Portuguese striker's grill and shoving him backwards with his head. The Portuguese forward drops to the ground theatrically and Seidu gets away with a ticking-off from the extremely lenient referee instead of a second yellow followed by a red.
57 min: Portugal substitution: William Carvalho on for Otavio, who appears to have shipped a knock.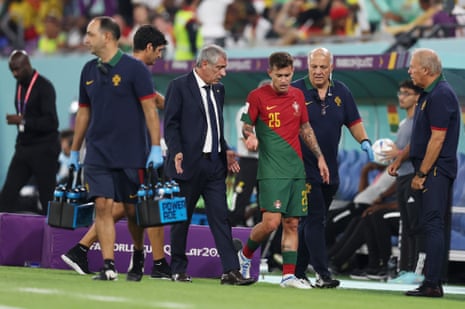 56 min: Muhammed Kudus surges forward with the ball at his feet and unleashes a low drive from distance. His decent effort fizzes a couple of feet wide of the upright.
55 min: On the left side of the Ghana penalty area, Ronaldo is unable to create an angle for a shot. He elects to cross instead but his effort is blocked.
52 min: Joao Cancelo is having something of a shocker by the usual high standards we've come to expect from him in a Manchester CIty shirt. In a promising position out wide in acres of space after being fed the ball by Ruben Neves, he tries to cut inside instead of crossing the ball, loses it to Muhammed Kudus and falls over.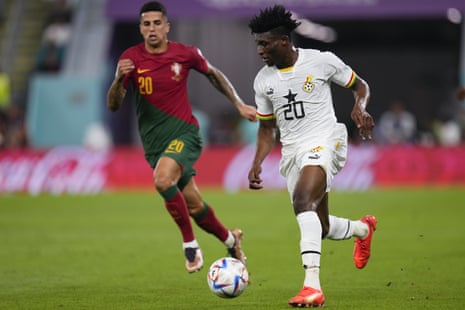 51 min: Not a great deal continues to happen at great length. Portugal continue to dominate possession while doing precious little with it.
49 min: Andre Ayew is booked for a clumsy challenge on Otavio, who'd just turned him.
47 min: Bernardo Silva is dispossesed by Rahman Baba deep in the Ghana half and the left-back advances upfield. Fun fact: Ghana have yet to enjoy a touch of the ball in the Portugal penalty area.
Second half: Portugal 0-0 Ghana
46 min: Ghana kick off with no changes in personnel on either side. It's a bit of a surprise as I thought Fernando Santos might shake things up in the Portuguese ranks. At half-time in the ITV studio, Roy Keane said he was "getting angry" watching this match and nobody wants that. Do they? Oh.
Half-time: Portugal 0-0 Ghana
Peep! After just two minutes of added time, the teams go in for the break with the game scoreless. Portugal have dominated and probably should have scored but Cristiano Ronaldo has missed the two good chances that came his way.
45 min: Muhammed Kudus is booked for a high boot that catches the similarly outstretched foot of Joao Cancelo and sends the Portugal right-back to ground with a loud roar of pain.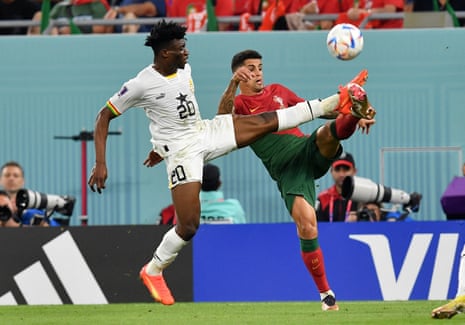 45 min: Otavio mishits a cross from the right into the Ghana penalty area and sends the ball over the bar.
44 min: Joao Cancelo whips the ball across the Ghana penalty area with extreme prejudice but it's behind everyone in a red and green shirt.
42 min: Ronaldo gives up the chase for a cross from the right because the ball's too high for him to head. Oblivious to the fact that Joao Felix is behind him, he switches off and is unable to adjust his feet when his strike partner sidefoots the dropping ball his way.
40 min: Any time Ghana find themselves with a goal-kick, Portugal's front three line up in such a way as to dissuade their opponents to risk playing out from the back. It's a tactic that's working as, forced to kick the ball long instead, they keep gifting possession straight back to Portugal.
39 min: And they say Ronaldo doesn't defend, eh? Eh?!?!?!?
37 min: Ghana win a corner, their first of the game. Kudus delivers the ball to the near post, where Ruben Neves heads clear. The ball drops for Kudus, who sends it into the mixer again. Fernandes heads the ball out for another corner, which Ronaldo heads clear.
36 min: An extremely feeble shot from Otavio rolls into the waiting arms of Ati-Zigi, who had time to drop to his knees to claim it.
35 min: Salisu plays the ball towards Inaki Williams, just to remind the Ghana striker what it looks like as it's been so long since he's had a sighting of it. The pass is underhit and Portugal reclaim possession.
33 min: Andre Ayew heads the ball out for a Portugal corner, which Otavio takes. He floats a high ball into the Ghana penalty area, where goalkeeper Lawrence Ati-Zigi leaps to claim it with both hands.