Period health is something I never thought about while growing up. I knew the basics and had check-ups regularly, but instead of learning how to live with it, it was always a matter of mitigating side-effects. When I was 15, a doctor asked why I was still menstruating and prescribed birth control to take continuously to stop it, but I chose not to use it.
However, as time went by, I decided to "solve" that problem. It's been nearly 15 years since I had a period without any influence from pills or a hormonal IUD.
Nowadays, information is more available than ever. We have apps to track our cycles, we see athletes speaking openly about it – a few months ago, we discussed it with Beth England. Even details such as darker shorts are becoming available for players who want to feel more comfortable without having to worry about leaks. There is a plethora of information – and misinformation – online about periods, performance and how it affects the way you play. It is not a problem to solve; instead, people who menstruate have options.
The former Olympic swimmer Hannah Miley, who works as a performance and wellbeing advocate, has been conducting workshops for girls about periods. She decided to go off the pill during the pandemic to learn more about her body, but her research was so eye-opening that she wanted to share knowledge. "I thought I knew everything about my body," she says.
Working in partnership with the grassroots charity Bloomsbury Football, she began teaching girls, parents and coaches about periods and menstrual health. "We want to get this information out there so they are free to make their own choice.
"It's important to identify red flags so you can protect your health and be aware of certain conditions like endometriosis, polycystic ovary syndrome (PCOS), so I can decide if I should be seen by a doctor and not just take some Ibuprofen and get on with it."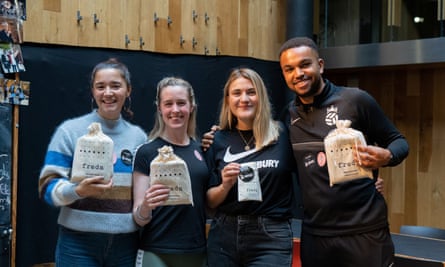 The questions may vary between what kind of period product to use, ways to cope with mood swings and how to know when something is not right. Apart from the usual queries, the doubts can also be related to how their performance is affected and how they can manage throughout the month.
For Miley, it was a challenge to work with girls who play a different sport, but she says she learned as much from the audience as she taught them. "You can still achieve something without feeling like you can't do it or use it as an excuse. It's really fascinating, how different it is from when I was younger."
At Bloomsbury, an initiative has been tackling period stigma and menstrual poverty since last year. Isabelle Chauzy, the charity's marketing manager, wanted to break girl-specific barriers in football. The first level was to provide period products and make them available for their community. At the same time, the goal was to change the culture by creating educational spaces such as Miley's workshops. Two three-hour long sessions with Miley focused on the scientific aspect of menstrual health and taking care of themselves. "It's not enough to simply provide materials and hope the girls know where to get them," she says.
Miley says girls would often associate periods with negative thoughts, either related to physical pain or bad feelings. Ava-Marie King felt that after the workshop she became more comfortable discussing her period with the coaches and her teammates. "Before, I was less open to training or exercising," the 14-year-old says. "But then I learned that at different points of your cycle, you'll be stronger and it will be easier to exercise. Now, I feel like if I train while on my period, I forget about it and just train."
Carla Tenthorey Vinuesa, who is 15, learned how to navigate her mood swings and feels her perspective on her period shifted. "After going to the workshop, I know that before the period you tend to feel moody because of your hormones so now every time I notice myself getting upset or irritated about something really small, it helps me put things into proportion and not act out," she says.
For Miley, the goal is to change the narrative and stop looking at periods as a hindrance. "It's not always going to be sunshine and rainbows, but it is about seeing it as a superpower. It's like unlocking your potential. It's just having that conversation and the more we can normalise it, the better."
Recommended viewing
Caroline Graham Hansen is back after four months and showed off by scoring a 20-minute hat-trick in Barcelona's 5-0 win over Villarreal. If you missed her as much as we did, check out this stunner.
Got a question for our writers – or want to suggest a topic to cover? Get in touch by emailing [email protected] or posting BTL.