Key events
Full time: South Korea 2-1 Portugal
Peep! Peep! Peeeeeeeeep! It's all over and South Korea's players slump to the turf, not knowing whether or not they've qualified for the knockout stages. They've done their bit but there are six minutes of added time in the game between Uruguay and Ghana still to play. It's 2-0 to Uruguay but they need one more goal!
90+6 min: It has to be said, that goal came out of nowhere. South Korea hadn't looked at all threatening in the final 20 minutes of this game and then … boom!
90+4 min: As things stand, South Korea are going through in second place on goals scored but another Uruguayan goal in their match against Ghana would knock them out. Football, bloody hell.
90+2 min: What a goal! South Korea counter-attack and Son gallops from box to box with the ball at his feet. He slips a perfectly weighted and timed through ball in behind to Hwang, who stays onside and makes no mistake as he slots the ball into the corner.
GOAL!!! South Korea 2-1 Portugal (Hwang 90+1)
Wow! South Korea go ahead as the fourth official signals six minutes of added time.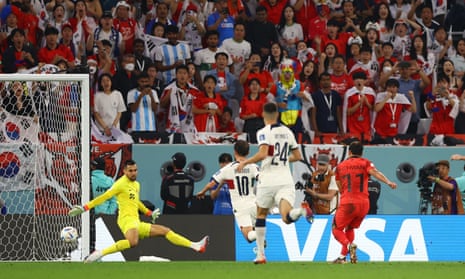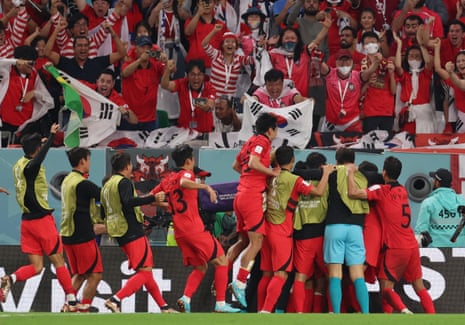 88 min: Heung-min Son gallops through the centre with runners either side of him. William Carvalho robs him of the ball and another promising move breaks down. It's like that face-mask Son is wearing is doubling up as a set of racehorse blinkers.
87 min: South Korea keep plugging away but I'm not really getting Kitchen Sink vibes from them despite the fact that a goal would change everything. Get it launched!!!
84 min: Uruguay still lead Ghana 2-0 in the other Group H game. If that matches finishes with that scoreline and South Korea get a winner here they'd go through to the knockout stages at Uruguay's expense on goals scored.
83 min: Portugal bring on Bernardo Silva and William Carvalho for Vitinha and Joao Mario.
81 min: South Korea double-substitution: Jun-ho Son (no relation) and Ui-jo Hwang (no relation) on for Kwon and Lee.
80 min: Kyung-won Kwon has been struggling and goes to ground, flat on his back in his own penalty area and in need of treatment. The medics signal to the bench that he needs to be replaced and help him off the pitch.
77 min: Dalot squares a low ball across the edge of the South Korea six-yard box. It's cleared before the lurking Joao Mario can pounce.
73 min: Portugal win a free-kick about 35 yards from the Portugal goal. It's a long way out but Lee Kang-in tries his luck and sends the ball high and well wide. It was a very optimistic effort and he might have been better served just delivering the ball into the box.
71 min: Leao pulls a shot well wide of the far post, as Cancelo, who was knocked off his feet and winded by that Son volley, is forced to trudge around the perimiter of the pitch from the Portugal goal to the halfway line before being allowed back on the pitch by the commendably officious and fussy referee.
70 min: Kim Jin-su sends a cross to the back post, where Son connects with a volley. Struck from point-blank range, his shot hits Cancelo in the ribcage, catching a bit of upper arm. South Korea appeal for a penalty but none is forthcoming.
67 min: South Korea substitution: Wolves striker Hwang Hee-chan on for Jae-sung Lee. Hwang has been suffering from a hamstring injury but is thrown on as his side are in dsire need of a goal. We can only assume Paulo Bento hasn't seen too many Wolves matches this season. Hwang has barely got a look-in despite his club team's struggles in front of goal.
65 min: It's close but no cigar for South Korea as Costa saves well from a powerful Hwang In-beom shot.
64 min: Portugal triple-substitution: Andre Silva, Rafael Leao and Joao Palhinha on, Matheus Nunes, Cristiano Ronaldo and Ruben Neves off. Pepe takes the captain's armband from Ronaldo, who does not look best pleased at being hooked.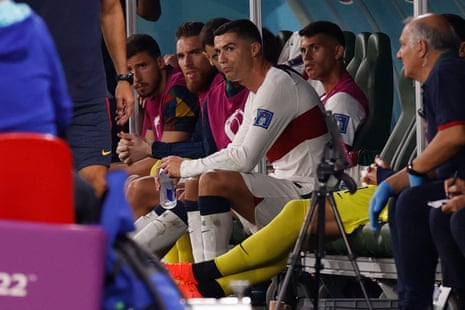 63 min: South Korea centre-back Kwon Kyung-won, in as a replacement for the mighty Kim Min-jae, goes down injured and needs treatment.
61 min: Son gallops upfield on the break with Portugal's defenders backpedalling furiously. He cuts inside to the left, runs into traffic on the edge of the Portugal penalty area and loses the ball. He had options either side of him.
59 min: "Interesting match to watch, at least as a Portuguese," writes Joao Andre. "I must say I am loving Ronaldo's attitude. Whenever his teammates do not move up to press the build-up he just starts complaining. I guess it must be difficult for such an adept ball recovery master to take such levels of passivity. What do you think? Earning a spot at Klopp's team from January on?"
58 min: South Korea get another ball into the Portugal penalty area from a free-kick. It sails towards the far post, where Cho misjudges its flight and throws his hands to his head as it bounces harmlessly behind him and then rolls out of play. That was an excellent chance.
57 min: A South Korea counter-attack ends with Son having a shot from distance deflected out for a corner. His delivery is poor but breaks to Lee Jae-Sung, who mishits his volley.
54 min: A Portugal cross to the far post and Matheus Nunes leaps unmarked. The ball is a mite too high and he can't connect.
52 min: Joao Coutinho plays a neat little dink over the top to Ronaldo on the edge of the six-yard box. His Lordship takes a wild swing and misses the ball completely. His blushes are saved by an offside flag, although replays suggest it was a very, very, very tight call.
48 min: Portugal are dominating possession in these early stages of the second half but no sooner do I type that than Pepe gives the ball away. The wily old s***house is 39, a full 20 years older than his central defensive partner Antonio Silva.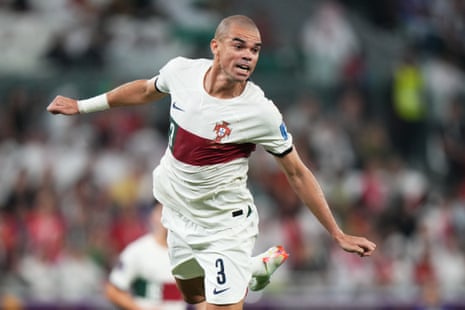 47 min: Matheus Nunes chips a ball from deep to Ronaldo on the edge of the South Korea penalty area. It's headed clear by a defender and the flag goes up for offside.
Second half: South Korea 1-1 Portugal
46 min: Portgual kick off with no changes in personnel on either side. They advance up the right but a poor cross from Joao Cancelo sends the ball sailing out of play for a goal kick.
Elsewhere in Group H: It's Uruguay 2-0 Ghana at half-time and any hopes the African side have of exacting revenge for that Suarez handball in 2010 are fading quickly. As things stand, Portugal and Urguay are going through but a South Korea win would put the cat among the pigeons.
They'd be level on points with Uruguay and it would go to goal difference. They're currently one goal worse off than the South American side, but obviously that deficit will be cancelled out if they get the goal they need to win this game.
Half-time: South Korea 1-1 Portugal
Peep! It's all square at the break, with South Korea having mounted a stirring comeback after going behind to a very early strike from Ricardo Horta. Kim Young-gwan scrambled the ball home from a corner after Portugal had failed to learn their lesson on the back of a let-off in very similar circumstances a few minutes previously.
45 min: South Korea get an excellent cross into the Portugal box from the left. Lee Kang-in leaps but can't get his head to it and it bounces through to the far post, where CHo stretches but can't quite reach it either. Both players are left holding their heads in their hands.
43 min: With his back to goal, RIcardo Horta receives a pass on the edge of the South Korea penalty area. He shoots on the turn but his effort is fairly weak and straight at the goalkeeper.
42 min: "Portugal are playing every pub pundits favourite rant tactic, zonal marking at set pieces," writes Hugh Molloy. "South Korea constantly have someone free for the second ball/knockdown."
It's interesting because South Korea took a dozen or more corners against Ghana and each and every one they took was terrible, barely making it to, let alone clearing the near post area. It was a stark contrast to today, when their goal and the disallowed effort from earlier both came from corners.
40 min: Son gets the ball on to his left foot and shoots through a thicket of bodies from outside the Portugal penalty area. Diogo Costa sees the ball late but it's straight at him. He saves comfortably.
38 min: Lee Kang-in gets booked for a rather robust challenge on Vitinha that sends the Portuguese midfielder flying acrobatically through the air.
34 min: Portugal goalkeeper Diogo Costa gets the ball launched for Diogo Dalot to chase. The full-back gets the better of Jin-su Kim again, cuts inside and unleashes a rasping shot from distance. Kim Seung-gyu gets down low to his right to save.