"As Harry Kane (213) continues to chase Alan Shearer's record of 260 Premier League goals, I was wondering who was the last person to lead the chart before Shearer," begins Eric Hardy-King. "How many different leaders have there been? Obviously Brian Deane was there at the very beginning, and I think Teddy Sheringham finished top scorer in the first season, but who else has been outright leader? And how long has each player been top?"
First things first: this answer required a subterranean data dive, with everything researched manually, so please don't bet the farm on the table at the bottom being 100.00% correct. What we can say without fear of contradiction is that, in December, Alan Shearer will celebrate 30 years as the Premier League's outright record goalscorer. He has been out on his own for the past 10,791 days, and in total for almost 11,000.
The last man before Shearer to hold the record was another Spurs forward, Teddy Sheringham, between April and December 1993. Before their first played together for their country, Shearer and Sheringham were dominating English football in a different way. Accomplished net-tickler though Sheringham was, he probably wouldn't have held the record but for Shearer suffering a serious knee injury halfway through the first Premier League season. At that stage Shearer had 16 goals, five more than anyone else.
As for the progression of the record, let's start at the dawn of time: 3pm on Saturday 15 August 1992. Brian Deane scored the first Premier League goal after five minutes, giving Sheffield United an early lead against Manchester United. He held the record alone for precisely four minutes, until Coventry's new signing John Williams (aka the Flying Postman) scored at home to Middlesbrough.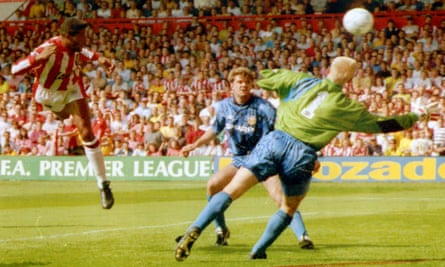 Deane was the first man to score two Premier League goals, putting Sheffield United 2-0 up after 51 minutes. Shearer joined him half an hour later after leathering two belters on his Blackburn debut in a 3-3 draw at Crystal Palace. In the dying minutes of the opening games, Mark Robins (for Norwich, who won 4-2 at Arsenal) and Lee Chapman (for the champions, Leeds, 2-1 at home to Wimbledon) joined them.
Shearer was the first to three goals when his deflected shot gave Blackburn a 1-0 win over Arsenal on the Tuesday, though he was joined 24 hours later by Robins, Deane and Williams. Shearer then suffered one of the worst droughts of his Blackburn career, going two games without a goal. That, and the rescheduling of a game against Everton, allowed others to overtake him. In chronological order, the leading goalscorers – either outright or joint – were Deane again, David Hirst (Sheffield Wednesday), Eric Cantona (Leeds United) and David White (Manchester City).
On 15 September, exactly a month after the start of the season, Shearer assumed his rightful position by scoring twice in a 3-2 defeat at home to Everton. They were his seventh and eighth goals of the season, and for the next few months he was irresistible. Two more against Leeds on Boxing Day took his tally to 16, but he suffered a knee injury in the second half of the season. At that stage he was five clear of the next highest scorers – Hirst, White, Robins, Dalian Atkinson (Aston Villa) and Ian Wright (Arsenal) – and 10 clear of Sheringham.
Sheringham ate into the deficit by scoring nine in five games in January and February. And with the other strikers' goals drying up, he became joint top-scorer with Shearer after converting a penalty in a 1-1 at Chelsea on 20 March. He was out on his own after hitting two more in a 5-1 win over Norwich on 9 April and ended up winning the Golden Boot in the Premier League's first season with 22 goals (including one for Nottingham Forest) ahead of Les Ferdinand (QPR) on 20 and Dean Holdsworth (Wimbledon) on 19.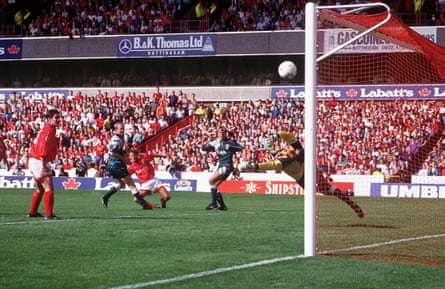 Sheringham started the 1993-94 season strongly, with nine in 11 games, but was then out from October to April with a knee injury of his own. That allowed the fit-again Shearer to take over. After a few appearances off the bench, including a cathartic equaliser at Newcastle, he made up for lost time with a winter rampage. At 4.36pm, give or take, on 18 December 1993, he scored in a 2-0 win at home to Manchester City. It was Shearer's 16th league goal of the season, his 15th in 12 starts since his return from injury – and his 32nd in the all-new Premier League. You know the rest.
With the Premier League only 16 months old, there wasn't much told of overall records, and Shearer's achievement was barely mentioned at the time. Over the next decade or so, the legend grew along with his goal tally.
In all, including that spell at the start of 1992-93, Shearer has held the outright record for 10,978 days, plus 33 as joint record-holder. His total of 11,011 puts him light years ahead of the next best, Sheringham with 273 days. The Premier League has only existed for 11,281 days, so Shearer has been the leading scorer – joint or outright – for 97.61% of its existence.
Here's the full list of players who have put their head on the pillow as the Premier League's record goalscorer (the first figure in brackets is the days spent as outright leader, the second when the record was shared).
Alan Shearer 11,011 days (10,978/33)

Teddy Sheringham 273 (246/27)

Brian Deane 13 (0/13)

David White 10 (10/0)

Eric Cantona 8 (4/4)

David Hirst 8 (3/5)

Mark Robins 6 (0/6)

Lee Chapman 3 (0/3)

John Williams 3 (0/3)
A number of players held the joint-record of one Premier League goal before Deane scored his second on the opening day. They were, in chronological order, the aforementioned John Williams, Nigel Pearson (Sheffield Wednesday), Alan Smith (Arsenal), Gavin Johnson (Ipswich), Mark Bright (Crystal Palace), Kevin Campbell (Arsenal), Stuart Ripley (Blackburn) and Barry Horne (Everton).
The Boss: playing a ground near you
"Which musical artist or band has played the most different football grounds?" wonders Sarah Burntin.
"If anybody has managed more than Bruce Springsteen, then: a) I'll be very surprised; and b) fair play to them," writes James Vortkamp-Tong. "The Boss has played at roughly 107 different football grounds, that is any stadium which has had a football team call it their home." Here's the list James provided, ordered by tour, from Milan to Melbourne, via Manchester.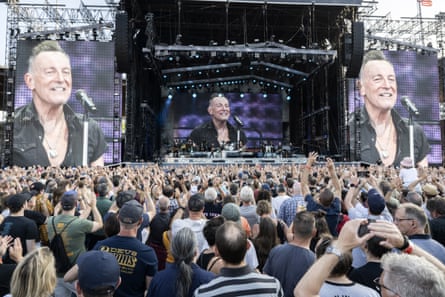 The overlap
"With the last of this season's Euro 2024 qualifiers taking place on 20 June, and the Champions League preliminary round beginning on 27 June, does that make this the shortest close-season in Europe? If so, what's the next shortest? And, related: which European-based player(s) will have the shortest time between their last game of 2022-23 and first of 2023-24?" wonders Derek Robertson.
It's no surprise that the answer to the first part of this question involves a certain pandemic. "Covid-19 was responsible for the occasion when one season started before the last had finished," mails Andrew Wright. "The pandemic-deferred 2019-20 Champions League final between PSG and Bayern took place on 23 August, 15 days after the preliminary round for the 2020-21 Champions League had begun."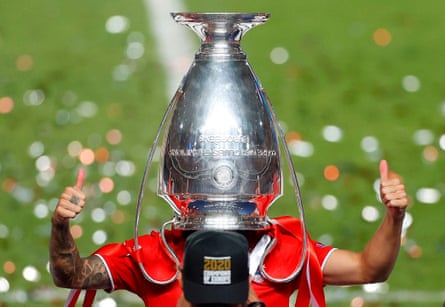 Knowledge archive
"Has a goalkeeper ever been booked or sent off for diving?" asked Allam Jeeawody in 2007.
Where better to start the search than with Jens Lehmann? He collected eight yellow cards in the Premier League with Arsenal in 2006-07, but the best of the lot came at Chelsea when he got up Didier Drogba's nose by pushing him while the referee had turned his back. Drogba dived pathetically, leapt to his feet and went for revenge with a barge. Lehmann also went down and both players were booked.
It's probably worth mentioning the infamous incident involving Chile's Roberto Rojas, a flare and some fake blood, as reported in this previous Knowledge column, but Luis Vallespín's story about the Real Madrid goalkeeper Paco Buyo comes closest to a goalkeeper booking for diving. "Real were playing Atlético Madrid in December 1988 and Atlético's Paolo Futre was sent off for punching Buyo," declared Luis. "But TV replays showed Buyo had fallen to the floor without being punched so he was suspended." Lehmann would be proud.
Can you help?
"Why did Dino Zoff play for Newmarket Town in 1965 and how did he score two goals?" enquires Dan Taylor.
"While reading an article about the number of 23-year-olds in England's current U-21 team, there was a mention of 25-year-old Gary Bailey playing in goal at the 1984 European Championships. Is a player being four years older than the competition's age group a record?" asks Chai from Atlanta. And who is the youngest?
"N'Golo Kanté has bought Belgian third division side Royal Excelsior Virton," writes Nick Williamson. "Who was the first player to own a club (not the first owner to play)? Who was the youngest? And has a player played for a club he/she owns?"
"Gary Lineker (and others) have been lauded as being lethal in the six-yard box and we often hear of scoring a 'tap-in'," writes Kevin Scorah. "It got me wondering whether there has ever been a hat-trick of tap-ins, and if so, what is the shortest cumulative distance over which three goals have been scored?"