Key events
32 min South Korea get it wide with Jinsu, but his cross isn't flat enough, so Sangho has no chance of winning it in the air against Caceres.
31 min
Good beer there too.
31 min South Korea keep it for a bit, recognising the balance of play has switched against them.
29 min "Weighing in on the flag talk," says Jack Ball, the lack of love for the Seychelles gorgeous flag is troubling. To round out the top five, Barbados, Brazil, Kenya, Bhutan. Bottom of the pile, Nepal. Get that double triangle flag outta here!"
I agree on Seychelles and Brazil, though respect Nepal for trying something different. I wish I could grab pics of them all, but there's a game going on, I think. I do, tough, heartily recommend the kids' placemats with a map of the world on one side and flags of the world on the other.
27 min Ohhhhhh maaaaate! Olivera takes it off Bentnacur to lead a Uruguayan counter, and they've a man over! It's Darwin Nunez! But with so much space and time to measure the pass, Olivera loses the run of himself, overhitting his pass when there was so much margin of error to stick his mate in on the goalie.
26 min First flash of serious Son. He veers in off the left, totally diddles Olivera, and curls towards the far post, but Godin is there to head clear.
25 min He aims for Gimenez, a phalanx of bodies leap, and a defender's head flicks behind for a corner that comes to nowt.
24 min Uruguay are starting to assert themselves, Valverde to the fore. He's grabbed around the neck, but Wooyoung I think, and will now stick the free-kick into the box from 40 yards out….
23 min "With all due respect for the pain your wife had gone through during WC 2010," says Admir Pajic, "can we put the whole 'Suarez robbed Ghana' narrative into the bin? Suarez made a professional foul to prevent a clear goal. He didn't injure anyone. He didn't even bite anyone! He didn't get away with it – he got a red card that forced him to sit through the World Cup semifinal match v Netherlands. The ref made a correct call to give a penalty to Ghana. Asamoah Gyan missed it but even that wasn't the end for Ghana as they had a chance to win the penalty shoot-out. They didn't. Maradona v England in 1986, referee Byron Moreno v Italy in 2002 and referee Peter O'Leary v Bosnia-Herzegovina in 2014 got away without punishment. Suarez served his time."
I agree. The game tells you what happens if you do certain things, Suarez did one of them, and Ghana couldn't punish him.
22 min Better from Uruguay, another lovely pass from Gimenez, this time out to the right, allowing Pellistri to cushion a cross that Nunez, running, leaping and buffeting can't quite connect with. Suarez turns the ball back in, but Korea clear.
19 min But then, out of nowhere, Jimenez unfurls a glorious pass from halfway to box, Valverde leaping to control. But as he tries to adjust his body ad find a shooting lane a defender intervenes and the ball goes behind. That should've been a corner, but Clement appraises a goalkick.
18 min Korea are stretching the play really well here, and again Sangho keeps the width down the right and they find him. He can't then find a decent cross, but his side are currently the better one.
17 min Another good switch, this time to the left, sees Jinsu powering forward from left-back – Pellistri is slow to follow – but a poor first touch means he can't wrap foot around cross before ball races behind.
15 min "Contradictory names," says Eanna Mac Craith. "Best has to be Dennis Wise?"
I actually meant first and surname, as in Clement Turpin, but name and person? I enjoy Mark Noble, but Felipe Melo is my favourite.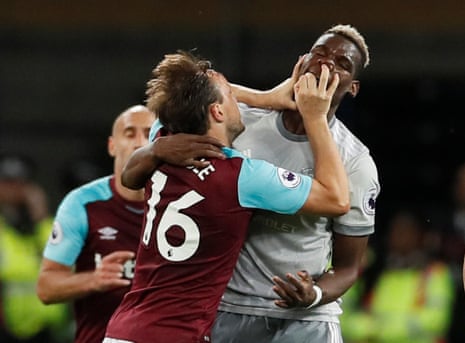 13 min Son chucks a lollipop at Pellistri, so Caceres extends a thigh for him to leap over, with no foul given. Uruguay then race forward, Suarez lofting a pass from left to centre for the onrushing Vecino, but it's coming over his shoulder and he can't control, so Seunggyu collects easily enough.
11 min Uruguay is in my top-five flags," says Steve Brennan. "Only bettered by France, the Most Serene Republic of Venice, Dnipropetrovsk Oblast and the Isle of Man."
Mine, off the top of my head: Uganda, Macedonia, Colombia, Italy, Ghana.
10 min A serious challenge from Valverde sets Uruguay away, but they can't make the most of a throw deep inside the Korea half and immediately Korea spring. They can't make anything of the opportunity, but they've not come to frustrate. Uruguay, meanwhile, aren't playing the 4-4-2 I expected; Nunez is on the left, Pellistri on the right, and Valverde in the middle.
8 min This time, Son goes low to the near post, a kind of Anderton for Sheringham effort, but again Nunez is there to intercede.
7 min Another big switch from left-to-right sees Sangho isolate Olivera and meg him along the by-line. That is very brave behaviour, and his low cross is deflected behind, giving Korea another corner.
6 min South Korea are looking for big switches, but Nnuez intercepts one and moves down the left, so Sangho upends him. There's a pleasing tempo to this, and some excitingly solid challenges have already been dispensed.
4 min South Korea have started well, swift and adroit in midfield, and when In-beom riggles around Vecino, he's immediately punished with some Uruguayan justice.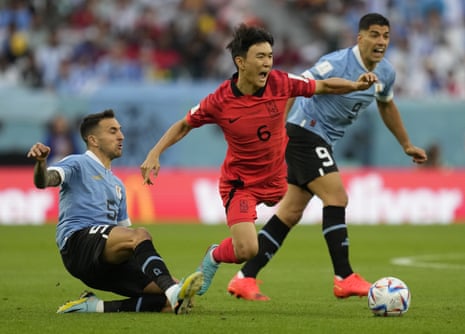 4 min "Uruguay's second-round victory over South Korea in 2010 is one of those matches that have stuck in my head," confesses Kári Tulinius. "In memory, the Koreans were much better than Uruguay and had, conservatively estimated, a gajillion chances to win it after equalising, but Suarez then scored an absolute beauty and that was that. Not the best story he ruined during that World Cup, mind you (still bitter)."
You're not the only one. My wife is British-Ghanaian, so we were robbed of some serious celebrations.
2 min Son swings out to the near post, where Nunez does well to head clear. Imediately, Uruguay counter, Rochet kicking out well to Valverde, but South Korea race back and Nunez is soon unloaded.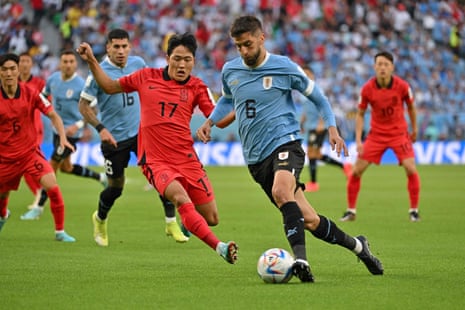 1 min Suarez flips over his first challenge, then Minjae of Napoli sends a decent ball out to Sangho down the right, which forces a corner out of Gimenez.
1 min The crowd showcase their ability to count down from 10, before informing us of their favourite colours and preferred shape … then we get going.
"Looking at the referee's name, surely we need this game to end with refereeing controversy so the 'Highway Robbery' headlines can get an airing," volunteers Shaun Wilkinson.
It's one of the great contradictory names. Can anyone think of any others?
South Korea's is also great, slow-build with a chorus to properly get after.
Oh yes, the Uruguay anthem is a banger, and the players, led by Godin, absolutely monster it in the best possible way. They're in the mood.
In the BBC studio, Ashley Williams says Suárez is the best striker he faced. I can believe that – I've not seen many runs of form better than his once he got good, and those who spring to mind as boasting close equivalents are Ruud van Nistelrooy, Ronaldo and Thierry Henry.
Here come our teams!
Email! "Come on, these triumphs were 92 and 72 years ago respectively!" says Ben Bernards on Uruguay. "By that logic Preston is still a British heavyweight and my team GAIS here in Sweden remains a big man on campus despite its four Swedish titles coming in 1919, 1922, 1930 and 1954 (in the real world they just got promoted from the third tier back to the second). Uruguay will excel mightily if they get as far as the quarters."
Disagree, because Uruguay are still good and their pedigree is part of that because it's part of the footballing culture that helps make them good.
Which is the best national team nickname? Uruguay's Le Celeste is surely among the top few – though that may be my Anglophonia kicking in, and ascribing to it a celestial quality. Ghana's Black Stars is also up there, likewise Italy's Azzurri and Zambia's Chipolopolo.
FYI
We Will Rock You is playing over the stadium PA, an eclectic, leftfield choice if ever there was one. How do they think of these things?
We're sharing joy here, so here's some of mine: I've recently discovered brining meat. Water, seasoning (more exciting than salt), onion powder, honey (a sugar replacement), heat, cool, meat in, fridge. Then dip in the sauce you'd previously have used as a marinade, cook and baste, whether on the barbecue, under the grill, in the pot or in the oven.
My guess is that South Korea will be hoping to outnumber Uruguay in midfield – though I expect Valverde to tuck in. They'll also, I'm sure, want Son, Uijo and Sangho running in behind Godin and Gimenez.
Embolo was born in Yaoundé; what a moment his goal was.
Looking at the South Korea XI, the presence in it of Son is obviously the big story. Because his injury was facial, he should be able to get going more easily than had it been muscular. I'm also looking forward to seeing how Inbeom gets on – he plays for Olympiakos and at 26, should be hitting this competition at exactly the right time.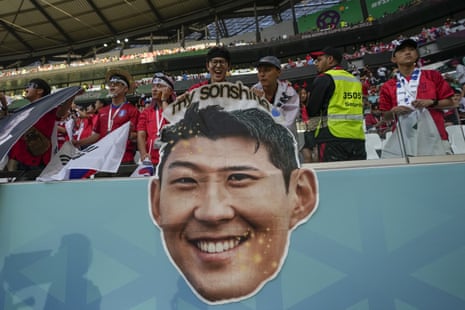 Cameroon will be rueing the chances they missed in the first half of that one. With Serbia then Brazil next, they're in a lot of trouble.
Here's one we made earlier:
Who expected Federico Valverde to get this good this fast? Not me, I must confess, but he arrives at this World Cup in frankly revolting form, which I guess is an interesting wrinkle of a mid-season tournament. I also fancy Darwin Nunez to do something here – though his touch and finishing can trend towards the avant-garde, he has the priceless ability to both make things happen and arrive on the scene as they're happening, so tournament football should suit him. Otherwise, Facundo Pellistri, who's struggled to get a game at either Man United or Alavés, starts, which makes sense: if you 're playing two strikers, you need at least one winger, and he has the ability to go either way.
Tangentially, to continue on an Atléti tip, Álvaro Morata scoring the seventh goal in a 7-0 win is one of my moments of the World Cup so far. I maintain my theory that Diego Simeone only bought him to ensure he maintained a suitable level of incandescence through every training session.
Taking a closer look at the teams, it's worth noting that Ronaldo Araújo is unavailable for Uruguay. I doubt he'd have played – Godin and Gimenez are too well ensconced and know each other too well – but I'd bet he's better than at least the former, much as enjoy his old skool, face-first style of defending.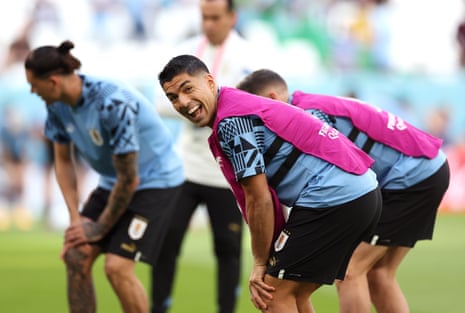 Update following yesterday's Yellow Car Dead Arm controversies: Green Car Hair Skriffle has been extremely warmly received by the youngest Harris. I've yet to try it on the middle Harris but you'll be able to tell when I have by my eternal absence from blogs such as this.
Only 15 minutes of telly buildup before this one; pah. How do you squeeze in 42 "from the England camp" and 27 "from the Wales camp" reports into so little time? On which point, including today, we've only five quadruple-game Tetris days left. Make the most of them, people.
Uruguay (4-4-2): Rochet; Cáceres, Godín, Giménez, Olivera; Valverde, Vecino, Bentancur, Pellistri; Núñez, Suárez. Subs: Muslera, Sosa, Coates, Varela, Viña, Rodríguez, Ugarte, Torreira, Canobbio, De La Cruz, Arrascaeta, Torres, Gómez, Cavani.
South Korea (4-3-3): Kim Seunggyu; Kim Mooonhwan, Kim Minjae, Kim Younggwon, Kim Jinsu; Jung Wooyoung, Hwang Inbeom, Lee Jaesung; Son Heungmin, Hwang Uijo, Na Sangho. Subs: Song Bumkeun, Jo Hyeonwoo, Yoon Jonggyu, Paik Seungho, Cho Guesung, Hwang Heechan, Son Junho, Hong Chul, Lee Kangin, Kwon Kyungwon, Kwon Changhoon, Kim Taehwan, Cho Yumin, Jeong Wooyeong, Song Minkyu.
Referee: Clément Turpin (France)
It'd take a particular kind of silliness to term as dark horses a country that has won the World Cup twice, made the last eight, the last 16 and the last four in the previous three tournaments, and been champions of South America 15 times. But Uruguay start this competition as outsiders, despite a pedigree rooted both in history and the contemporary.
Partly, that reflects the difficult of the group they're in, but even so, the 40-1 at which they were available last evening is unreflective of a squad packed with class and wildness. Boasting José María Giménez at the back, Federico Valverde and Rodrigo Bentancur in midfield, with Darwin Núñez and Luis Suárez up front, Uruguay are absolutely not to be trifled with.
Nor, though are South Korea. Son Heung-min is fit – though perhaps not match fit – while Jeong Woo-Yeong's Freiburg have made a fine start to the Bundesliga season. That gives them a decent goal-threat while, in midfield and defence, they've the solidity and security of players who've been together a long time.
Which to say that the Group of Death is go!
Kick-off: 4pm local, 1pm GMT