"Shakira's epic takedown of her ex, Gerard Piqué, has been a smash hit worldwide (certainly in terms of YouTube views)," writes Rashaad Jorden. "Has any other footballer been the subject of a diss track?"
Diss tracks are another part of modern life that we don't really understand, but we've clicked on enough bait to know that they are increasingly commonplace – and that Piqué isn't the first footballer to be on the receiving end.
For the sake of argument, and definitely not because we wouldn't have enough answers otherwise, let's extend the "footballer" in the original question to all people involved in football. That allows us to mention Stormzy's 2015 single Know Me From, which included a reference to his beloved Manchester United's post-Fergie woes: "I come to your team and I fuck shit up/I'm David Moyes." Good job he released it in 2015 and not 2022, or that last line could have gone on a bit.
Our next dissee (is that word? It is now) is Paulo Bento, who was one of the water-carriers in Portugal's terrific Euro 2000 side and later went on to manage his country. In between times, while in charge of Sporting, he was the titular subject of a withering track by the Portuguese rapper Valete.
"Baza correr com o Paulo Bento – or "Kick Paulo Bento out" – is obviously mainly aimed at the then-Sporting manager, but several footballers are also hit by the lyrical shrapnel," explains Alan Gomes. "Here are some of his lines – my translation may lack the verve and flow of the original:
Paulo Bento listen, you're basic and ridiculous.

Your football is sleepy, bureaucratic, unproductive.
And then he fires barbs at several of their players:
How can you play a guy like Ronny as left-back / That vegetable wing-back barely attacks, barely defends.

Nobody understands how you play / a guy like [Yannick] Djaló, Paulo / tell him his technique is cataclysmic.

You mix quality like [João] Moutinho, [Miguel] Veloso and [Leandro] Romagnoli / with mediocrity such as [Pontus] Farnerud, Djaló and Ronny / You should know you don't run ponies in horse races.
"The media made a big deal of Valete's track and confronted Bento with the lyrics. Bento declined to comment. But at the start of next season, Valete got his wish and Bento did get sacked."
Given the long tradition of, ahem, honesty in Dutch dressing rooms, it's no great surprise that the next track involves two Netherlands internationals.
"Ryan Babel's infamous Open Letter, released in 2021, springs to mind," writes Dean Whearty. "In the single Babel dissed his former Netherlands teammate Ibrahim Afellay through lines such as:
Bro, I don't know you from Barça, maybe more from PSV / Oh, now you're an analyst? / Hmm, so so.

Heard in the corridors you're broke, bro / You call things and don't think about them anymore bro code / But I understand if your career comes to a dead end.
"Football feud/diss track fans would have been left disappointed when Afellay commented on the song: 'I'm honestly surprised by it. I've only known him through the Dutch national team and he was always nice there. I don't have anything bad to say about him really.'"
And finally, one man's wry love song is another's diss. "It may not be explicit," begins John Dalby, "but Del Amitri's Don't Come Home Too Soon surely counts, if only on a passive-aggressive level, and it's aimed at a whole team who, inevitably, returned to Scotland at the earliest opportunity."
In safe hands
"Is Swindon's 5-0 win over Grimsby the biggest by a team with a caretaker manager?" tweeted Jack Tanner last week.
The simple answer is no, but we're guessing you want a bit more than that, so let's start with one of the most successful managers in history.
Before he was recognised as the kind of man who might be able to sit in the big chair and win Champions Leagues, European Championships and World Cups, Vicente del Bosque had two spells as Real Madrid's caretaker manager, in 1994 and 1996. The second of those lasted only one game, a 5-0 win at Athletic Bilbao, before Arsenio Iglesias came out of retirement to manage them. He lasted four months, but that's another story.
Chelsea had plenty of temporary managers when Roman Abramovich owned the club, <pedant> though they tended to be described as "interim" rather than "caretaker"</pedant>. Even so, it's worth mentioning Roberto Di Matteo's 6-1 win over QPR in April 2012, five days after that night in Barcelona. When Di Matteo was sacked later in the year, despite winning the Champions League, Rafa Benítez was a popular choice as interim manager until the end of the season. In December 2012, barely a month after he took over, Chelsea walloped Aston Villa 8-0 in the Premier League.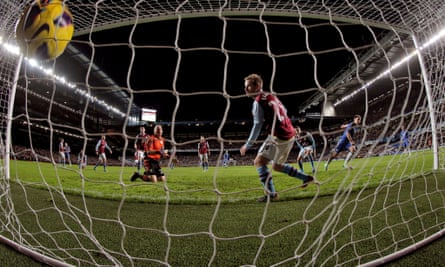 Andries Jonker had a short spell as Bayern Munich manager after Louis van Gaal was sacked in April 2011. In his penultimate game in charge, Bayern won 8-1 away to St Pauli. Talking of European giants, Tom Whelan cites Nottingham Forest's 7-1 win over Swindon in February 2006 at a time when Ian McParland and Frank Barlow were in temporary charge following the sacking of Gary Megson.
But the biggest victory in our mailbox comes from the early 1950s, with a tale that proves the past isn't always a foreign country. Then, as now, Brighton were addicted to goalscoring. "On 18 April 1951, Brighton hosted Newport County at the Goldstone Ground for a Division Three South match under their new caretaker manager Billy Lane," recalls Adi Zalmanowicz. "Lane had been assistant to Don Welch, and was appointed caretaker manager when Welch was poached by Liverpool.
"The game ended in a resounding 9-1 win for the Seagulls, still their record league victory. Lane eventually became permanent manager and held the job for a decade, during which he won the Division Three South title (in 1957-58) and brought Brighton into Division Two for the first time in their history. The full story of that game is well documented on Brighton's veteran fan site We Are Brighton."
Knowledge archive
"Tony Hibbert has never scored for Everton in his 304 games for the club. Is this a record, or have there been any more impressive examples of non-scoring outfield players?" pondered James Moseley in 2012. Hibbert ended up with no goals from 328 games.
Birmingham City and Newcastle United have form in this category. Gerard Sugrue nominated Frank Clark: "He scored one league goal for Nottingham Forest in the final years of his career. Before that he played 389 league games for Forest and Newcastle between 1962 and 1975 without scoring a goal. And while we're on the subject of Newcastle, Bobby Moncur scored only three goals in his 294 appearances for them – all of them in the two-legged Fairs Cup final of 1969."
Gerard noted that Birmingham have the winner, though: "Frank Womack appears to be the player with the most games without a goal – 511 between 1908 and 1929. Kenny Cunningham – who also turned out for Birmingham among others – appears to be the most recent player to make more than 500 league appearances (531) with the fewest goals." As far as we could see, Cunningham scored just one league goal – and that was for Millwall in the early days of his career.
Moving to Italy, Simon Paknadel told us that Luigi Perversi played 318 league games for Milan without scoring. And Karol Foyle brought us this zinger from the Netherlands/Australia. "Sydney FC's Dutch defender Pascal Bosschaart has never scored in his professional career despite having played 377 league games. Bosschaart started his career at Utrecht (194 games) then moved to Feyenoord (53 games), then ADO Den Haag (103 games) before his surprise move to Sydney FC where he has played a further 27 games. During his final game for Utrecht, his side were awarded a penalty and Bosschaart was given the chance to take it but missed."
Can you help?
"Now that Danny Ings has joined West Ham, is he the first Premier League player to have turned out for three top-flight clubs whose home kit is claret and blue (Burnley, Villa, Hammers)?" asks Rory Walsh (and many others).
"Watching Fulham v Tottenham, which began at around 8.20pm, made me wonder: what is the latest time a professional match in the UK has kicked off?" wonders Alasdair Brookman.
Mail us your questions or tweet @TheKnowledge_GU.