"Who was the first American to play for a major European soccer team?" asks Kurt Perleberg.
When the USMNT started to qualify for the World Cup on a regular basis in the 1990s, US internationals – and goalkeepers in particular – became a regular sight in European football. But John Harkes, Tony Meola (remember his spells at Brighton and Watford? Nope, nor did we), Paul Caligiuri, Kasey Keller and the rest weren't the first wave of American footballers to cross the pond.
Niche nerds across the globe owe thanks to Tim Dockery, who has sent a list of some of the earliest Americans to have appeared in the major European leagues:
Italy: Alfio Argentieri was born in New York, but raised in Italy. He played for Lazio in the 1936-37 season. Alfonso Negro was born in Brooklyn, but mostly raised in Italy. In addition to winning Olympic gold in 1936 with the Italian national team, he played for Fiorentina from 1934-38 and Napoli in 1938.
England: Jim Brown was a Scotsman who became a naturalised US citizen in the mid-1930s, a few years after he represented the US at the 1930 World Cup. He played for Manchester United (1932-34) and Tottenham (1936-37). Alexander Wood was another Scotsman who became a naturalised US citizen after moving to America at 14. He also represented them at the 1930 World Cup (he was eligible by virtue of his father's citizenship) and played for Leicester City (1933-36) and Nottingham Forest (1936-37).
Germany: Andy Mate, Hungarian-born, won one cap. In addition to playing the New York Cosmos' first ever game, he scored two goals during his brief stint with Hamburg in the 1964-65 season.
France: Joe Gaetjens, after famously scoring the only goal against England in the 1950 World Cup match, he went off to play four games for Racing Club de Paris (then in Ligue 1), where he scored twice.
Spain: Kasey Keller seems too recent to be the first American to play professionally in Spain, but AS says his 1999-2000 season with Rayo Vallecano was the debut of an American in La Liga.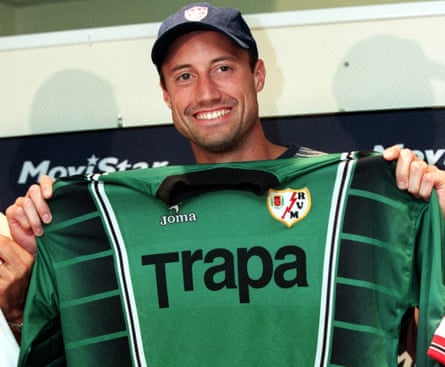 It looks like AS are right. Peter Vermes and Tab Ramos played in Spain earlier in the 1990s, both for Figueres and also for Real Betis in Ramos's case, but their teams weren't in the Primera Divisíon at the time. Ramos would almost certainly have been the first American to play in La Liga were it not for one of the World Cup's most infamous assaults. Betis were promoted in 1993-94, but the Brazil left-back Leonardo fractured Ramos's skull with a vicious elbow at USA 94, which meant Ramos was unavailable when Betis returned to La Liga. In January 1995, he became the first player to sign up for the all-new Major League Soccer.
We did find one other France-based player of note: John Donoghue, an American-born defender who played for Celtic, also had a spell with Excelsior Roubaix from 1932-35. They might not count as a major club – they don't exist anymore – but at the time they regularly finished in the top half of the French top flight, and they won the Coupe de France in Donoghue's first season. And Celtic are definitely a major club.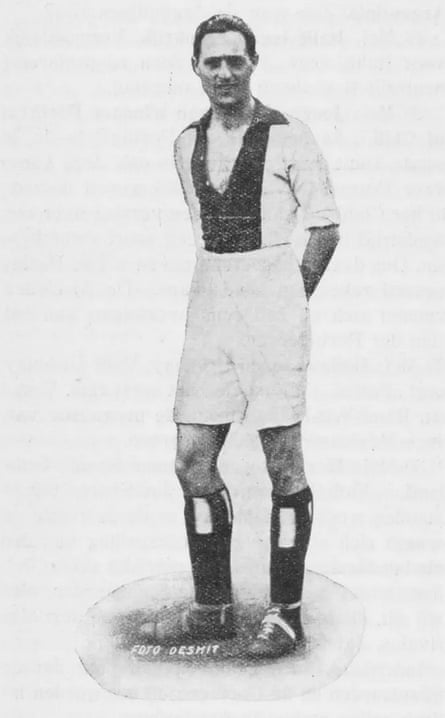 Before Donoghue and the rest, there was the tragic story of Eddy Hamel, who was born in New York to Jewish immigrants from the Netherlands in 1902. His family moved back to Amsterdam when he was a teenager.
"Eddy, a talented right winger, joined Ajax in 1922 and became the first Jewish player and the first American to represent the club," writes Adi Zalmanowicz. "During his eight years at Ajax he became a fan favourite, appearing in 125 games and scoring eight goals.
"After the Nazis occupied the Netherlands during the second world war, Hamel was arrested despite his American citizenship – because he was a Jew. He was sent to Auschwitz-Birkenau in late-1942, and after a few months of hard labour and torture, he was murdered in the gas chambers on 30 April 1943. He was 40 years old."
There is a chapter devoted to Hamel in Simon Kuper's fine book Ajax, The Dutch, The War, which includes this memory from an elderly supporter:
Tall boy, black hair combed back. Not a product of the Jewish Quarter. He was what you might call an idol. Eddy Hamel, I can still see him before me. Quick, and he had a very good cross. Something like David Beckham now. Ach, it was all different then. The speed of Eddy Hamel is a snail's pace now.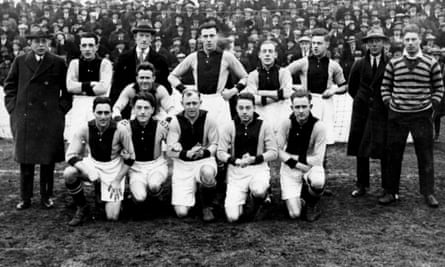 Hamel seems to be the first American to play for one of modern football's major clubs, but Chris Matterface has an interesting story from the 19th century: "It obviously depends on how you define a 'major European team', but in the far-off days of the 1870s, the winners of the FA Cup would probably count by default given that so little football was being played outside the UK.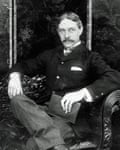 "Boston-born Julian Sturgis was on the winning team for Wanderers against Oxford University in the 1873 FA Cup final. In 2004, many sources claimed that Tim Howard had become the first American to win the FA Cup when he helped Manchester United beat Millwall, but they were sadly incorrect." Which is a shame, because had they mentioned Sturgis, they would have been obliged to tell some of his extraordinary life story: Etonian, rower, barrister, novelist, poet, librettist, lyricist – and, quite possibly, the first American to play for a major European team.
(NB: the globalisation of women's football occurred much later, but we think the first USWNT players to play for a major European side were Ali Krieger and Gina Lewandowski. They joined FFC Frankfurt in 2007 and won the Uefa Women's Cup – now the Champions League – in their first season.)
Tight at the bottom
"At the halfway stage of the Premier League season, the bottom seven clubs are separated by only two points. Has there ever been such a tight relegation battle in the Premier League?" asks William Bailey.
As William says, there are only two points separating Leeds in 14th (though they have a game in hand) and Southampton in 20th. That's smaller than the three-point gap between Leeds and Nottingham Forest in 13th.
Often by this stage, at least one team has been cut adrift at the bottom. At the halfway stage of the 2020-21 season, for example, there were a whopping 17 points between bottom club Sheffield United and 14th-placed Wolves. That's the biggest gap in English top-flight history, never mind the Premier League era.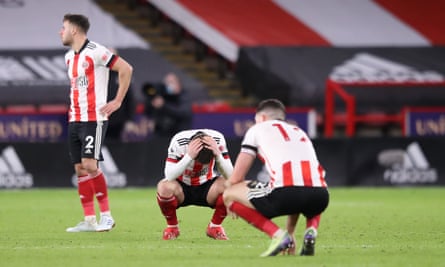 In lieu of a life, we've been through every English season since the change to three points for a win in 1981-82. In 17 of the 42 seasons, the bottom seven were separated by at least 10 points at the halfway stage. And it has never been as tight at the bottom.
The snuggest relegation scraps before this season were in 1986-87, 2010-11 and 2013-14, when the bottom seven were separated by five points. A couple of notes. In 2010-11, the entire bottom half – including Liverpool, who had struggled under Roy Hodgson, and Everton – were separated by those five points. And in 1986-87, the teams in the bottom seven included today's superpowers Chelsea, Newcastle and Manchester City. Manchester United had only just clambered out of that group. City were eventually relegated along with Leicester and Aston Villa.
There were, for obvious reasons, some tighter tables in the era of two points for a win. But, while we'd be loath to swear to this under oath, we think that even between 1888 and 1981 there was only a single example of the bottom seven being separated by two points or fewer at the halfway stage of the season. That was in 1910-11, when 20th-placed Woolwich Arsenal were only two points behind Spurs in 14th. This vague precedent gives hope to Southampton and the rest of this season's strugglers. Woolwich Arsenal and The Wednesday, the teams in the two relegation places at the halfway stage, finished in 10th and sixth, respectively.
Knowledge archive
"Did the great and the good of football officialdom (OK, Sepp Blatter) actually ever play the game professionally?" asked Andy Burrows in 2007.
Not professionally, but football's then-biggest cheese did play as a striker at an amateur level for a number of years in Switzerland. Indeed, according to Fifa's official website, Blatter's career spanned a whopping 23 years from 1948 (this is presumably including youth football as he would have been 12 at that time) to 1971 – most, if not all of which, was spent with hometown side FC Visp.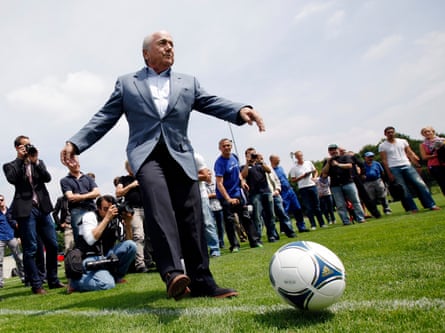 "I scored a lot of goals," boasted Blatter to interviewers from CNN as they filmed a documentary about him in 2006. "That's not a false modesty – it's really true, especially at the youth level." We'd be inclined not to believe him about this, or the story about splitting a pair of boots ("I took the left, he took the right") with a friend for his first ever game, but since he did own up to diving ("I was not a perfect player, I have to say, being a striker") and having a go at referees during his playing days in the same interview, we're prepared to give him the benefit of the doubt.
Can you help?
"Transfer announcement videos are everywhere these days – even Romeo Beckham had one when he joined Brentford's reserve team. But who was the first player to appear in one?" asks Colin Apps.
"Shakira's epic takedown of her ex, Gerard Piqué, has been a smash hit worldwide (certainly, in terms of YouTube views)," writes Rashaad Jorden. "So I wonder … has any other footballer been the subject of a diss track?"
"Has anyone ever missed two penalties in the same shootout?" wonders James Pollard.
"A goalscorer joyfully taking off their shirt has been banned since 2004, when Fifa and Ifab made such a demonstration punishable by a mandatory yellow card," notes Seb Clare. "But who was the player to start this form of celebration?"
"Scott Sinclair scored his first Bristol Rovers goal last year, a short 6,523 days after his debut on Boxing Day 2004. Is this the record for the longest gap between a player's debut and first goal?" asks Tim Woods.
Mail us your questions or tweet @TheKnowledge_GU.